Refrigerator Buying Guide – Your Food Depends On The Best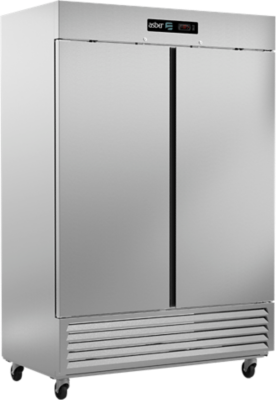 Do Your Research
Whether you're new to the kitchen or in need of a replacement refrigerator, how much do you know about browsing and comparing the many choices out there? A refrigerator is an investment - and hopefully a long-term one - and you should be equipped with all the knowledge to make the right purchase with confidence. Here are the top ten things to consider when choosing your next refrigerator.
1. Stainless Steel In & Out
Your refrigerator is only as good as the material it's made of. Stainless steel is the standard with it's superior strength, long-lasting finish, and ease of cleaning. For the best-in-class, look for a refrigerator that is made of a thick gauge stainless steel inside-and-out.
Avoid: Plastic or Aluminum Construction
If you find any plastic racks or construction - you need to close that refrigerator and walk away. Plastic is a less robust interior, prone to cracking over a short period of time. Aluminum is far weaker than stainless steel and not as scratch-resistant, making it harder to clean and less sanitary. The money you save on aluminum construction does not outweigh the robust longevity of a fully stainless steel refrigerator – especially in a busy kitchen.
2. Premium Foam-in-Place Insulation
Just because you can't see it – doesn't mean it isn't there. Heavy-duty foam insulation is the key to energy efficiency and fresh food. Choose a refrigerator with foam thickness of at least 2" and make sure it's a premium insulation brand like Ecomate®.
"Foam-in-Place" means that the foam insulation has been sprayed in place within the door and sides of the refrigerator – from top to bottom - which forms a complete tight seal. Cheaper refrigerators will have solid foam blocks loosely inserted into refrigerator slots. That's not very efficient!
3. Recessed Full Length Door Handle
Ergonomic, full-length door handles ensure practical opening of the door, avoiding dust and dirt collection. Recessed door handles won't break off since they're part of the door construction itself – that's one less thing to repair!
Avoid
Barred door handles do not stand the test of time. Think about the amount of times your staff needs to open and close refrigerators every hour – multiply that over the years and you'll be surprised with how quickly barred door handles loosen or break!

4. Abundant Interior Capacity
Did you ever think about putting entire food pans in your refrigerator? You want the largest interior you can get to store as much food as possible. Make sure you choose one where your cookware can fit directly in the unit – up to 18x26 is ideal for a full-sized food pan.
5. Welded Corners
Welded corners on a stainless steel appliance are the sign of a premium product. The extra craftsmanship that goes into welding the corners are key to manufacturing a single solid unit that will last over the years.
Avoid: Non-Welded Corners
These are the weak-spot of the refrigerator and a target for collecting dust, wear-and-tear, and snagging clothes. Nothing says cheap like non-welded corners.

6. Digital Temperature Control
Have full control over your refrigerator for an ideal storage box. With digital controls, you're able to set the temperature in single degree increments at a time. Matched with a digital display, there is no guessing the temperature inside the refrigerator. Allows food products to remain fresh over an extended period of time.
7. Bottom Mount Condensing Unit
For that extra bit of ease, consider a refrigerator with a bottom mount condensing unit that sits on a convenient rail system. A condenser located at the bottom will make maintenance, serviceability, and cleaning much easier since your staff won't need a ladder for the job. As a bonus, a bottom mount condensing unit allows for additional storage space on top of the refrigerator for boxes. Your refrigerator should be as ergonomic as possible for your business needs – especially for the price you pay.

8. Hot Gas Efficient Condensation System
Newer refrigerators are using better and more energy efficient technology. A prime example: The Hot Gas Efficient Condensation System. Instead of using a heater, hot gas coming from the compressor is used to automatically evaporate condensed water.
Avoid
Heaters come with a high cost of energy consumption. Other refrigerators may utilize a frozen drip pan line with specialized absorption paper that requires regular replacement - otherwise, overly saturated paper can cause water overflow (onto the floor) or grow mold.
9. Interior Step Door Design
Gasket lining inside refrigerator doors provide a seal between the cold air inside and warmer air outside. Choose a refrigerator that utilizes smarter lining systems such as an interior step door design. These provide thicker insulation and minimize wear on the door gasket.
10. Locks, Casters, and Interior Lighting
It's standard these days for a commercial refrigerator to have these three accessories: (1) Locks for security, (2) Casters for easy movement, (3) Interior lighting for convenience.
Avoid
Any refrigerator that does not have these essential accessories built in.
Need a Brand with All These Features?

Asber is a premium, affordable manufacturer of stainless steel reach-in refrigerators, freezers, pizza prep tables, and salad/sandwich prep tables. Avoid cheap imported refrigerators and go with a brand that cares about longevity of its product and the food you serve. Go with Asber.
Asber Reach-In Refrigerators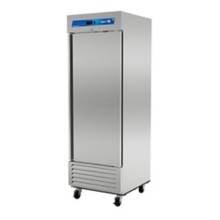 One Door Reach-in Refrigerator
Two Door Reach-in Refrigerator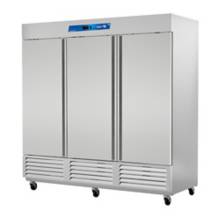 Three Door Reach-in Refrigerator
Asber Reach-in Freezers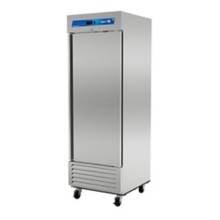 One Door Reach-in Freezer
Two Door Reach-in Freezer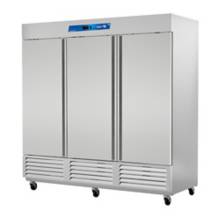 Three Door Reach-in Freezer
Asber Sandwich & Salad Prep Tables