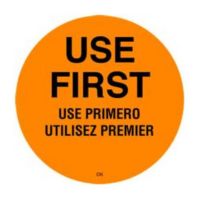 Miscellaneous Food Labels
Shop food labels at Wasserstrom. Can't find the food label you're looking for? It might be here! Businesses like restaurants and groceries can find various label gun labels, price tag holders, salad dressing labels, dispensers, and more here. Shop for day labels by category, too.
More
Miscellaneous Food Labels
Wasserstrom.com has labels for delis, shelf life labels, and safe food labels. Also shop Wasserstrom.com for day of the week labels, dissolvable labels, and more labels for organization and food safety.
Miscellaneous Food Labels
Label guns, display tags, "Use By" labels, and other food safety identification labels are essential for your business. For back of the house prep, removable labels, day of the week, and other labels help you organize food containers to maintain the food safety. Use these labels with various types of food pans such as clear food pans, colored food pans, and high heat pans. Ordering online is fast and easy. If you would like additional information or specifications, please contact Customer Service.
American Metalcraft Grab & Go Melamine
Featured Amazing Flameless Candles