Hoshizaki: Beyond Strong
Hoshizaki's attention to detail, continuous innovation, smart application of technology and commitment to the highest standards ensures that our customers have exceptional quality commercial refrigeration products.
---
Hoshizaki

Commercial Upright Refrigerators & Freezers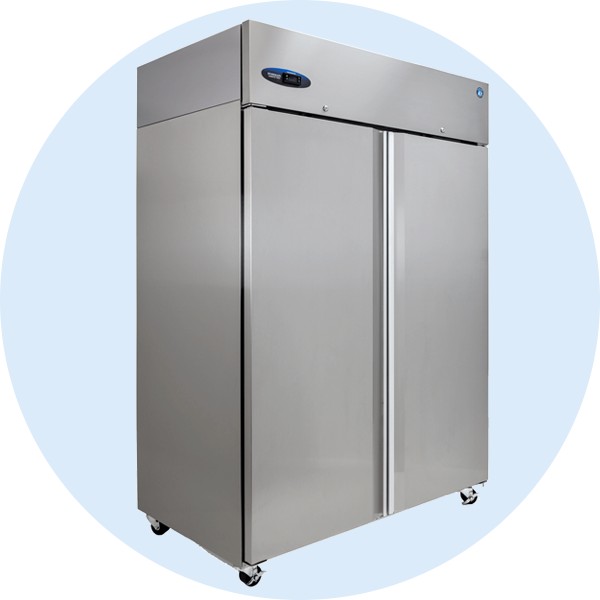 The Commercial Series refrigeration line from Hoshizaki has features that combine cutting-edge technology with durability and style.
Refrigerator Must-Have Features
Dynamic Airflow

Constant air movement circulating top-to-bottom and at each individual shelf level surrounds the food at just the right temperature.

Ergonomic Pressure Relief Valve & Stepped Door Design

One piece, full length handle and pressure relief valve make opening easy and doors can be conveniently reversed in the field with an optional door kit. Uprights come standard with locks.

Our seal saver design protects the gasket from protruding trays and pans. Plus, the snap-in channel makes it simple to remove the gasket for cleaning.

Stainless Steel Exterior & Interior

Hoshizaki's stainless steel is superior to other materials because its heavy duty, stain and chemical resistant and non-corrosive.

Both the interior cabinet and door liner are durable stainless steel. This tough and hygienic material creates a safer environment for commercial food storage - at the same time it's easy to clean and maintain.

2 3/8" Insulated Walls

Environmentally friendly foam insulation throughout the cabinet and doors provide an energy efficient storage compartment. Additional savings for your bottom line!

Industrial Shelving

Heavy duty, epoxy coated wire shelving, stainless steel shelf supports sustain maximum loads – exceeding UL standards. Tray pan slides are optional and can accommodate two full size hotel pans or one baker pan. Shelves can be adjusted in 1 inch increments to utilize storage capacity. Three shelves per section come standard.

Convenient Door Operation

Spring assisted self-closing doors are equipped with extra heavy duty 8 gauge hinge plates and a stay open feature at 90 degrees. For total hands free operation try our optional foot pedal.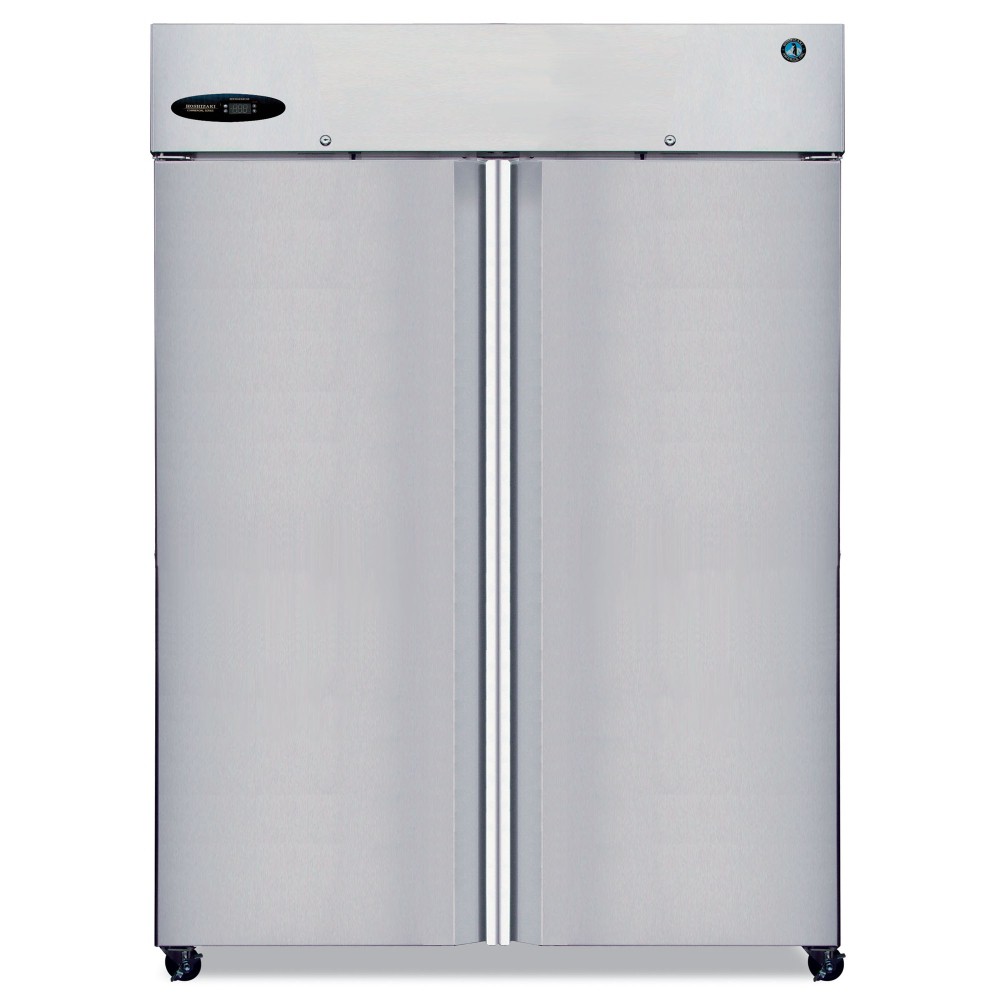 Featured Reach-In Refrigerator
Hoshizaki CR2S-FS Two-Section 53"
---
Item #: 6019530
Model #: CR2S-FS
Let Hoshizaki ensure food safety in your kitchen. The TXV valve quickly responds to demand and in turn regulates refrigeration flow to keep the refrigerator at the appropriate temperature. You will get faster recovery and food safe temperatures.
In Stock
Free Shipping
Shop Now >
Hoshizaki

Commercial Ice Makers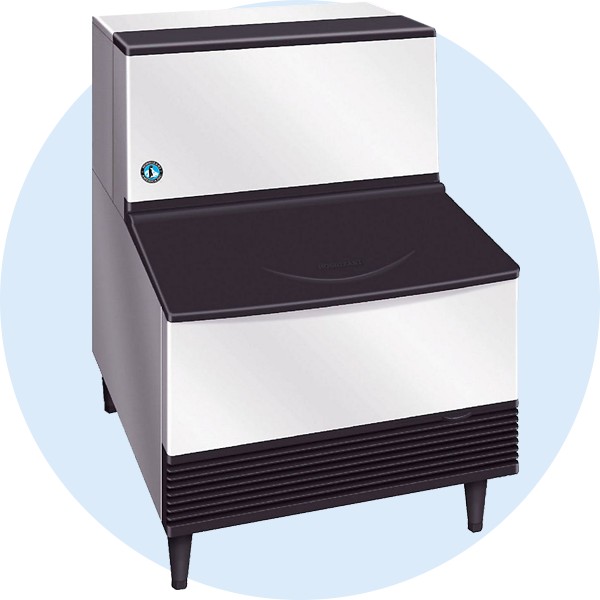 Hoshizaki KM Cubers will produce more ice, using less energy and cycling half as many times as the competition. The CycleSaverTM design means longer life, less maintenance, and increased customer profits.
Ice Maker Must-Have Features
Two-Sided Stainless Steel Evaporator

Unique two-sided stainless steel evaporator makes twice as much ice per cycle. Crescent cubes come off individually for consistent cube size and no ice clusters.

Fully Compartmentalized Design

The compartmentalization of Hoshizaki Cubers greatly improves reliability and sanitation. The cold and wet areas are insulated and separated from electrical and heat producing components. These design features also increase efficiency and reduce maintenance and service cost.

CycleSaver™

Hoshizaki KM Cubers will produce more ice, using less energy and cycling half as many times as the competition. The CycleSaver™ design means longer life, less maintenance, and increased customer profits.

It will take a Hoshizaki Ice Machine 15 years to accumulate as many cycles as the competition in 6 years.

Simple Controls

The state of the art design of Hoshizaki Ice Machines have improved serviceability. By eliminating the problem areas such as complicated electronic controls, plated surface evaporators, extrusions, and critical adjustments, our machines are considerably easier to diagnose.

Hoshizaki Cubers feature the EverCheck™ Control Board, with audible alarm and diagnostic features; designed to assist service technicians in diagnosing problems.

Filters / Antimicrobial

H-GUARD Plus® Antimicrobial Agent is embedded in the ice machine key components; it inhibits the growth of bacteria, mold, and other microorganisms.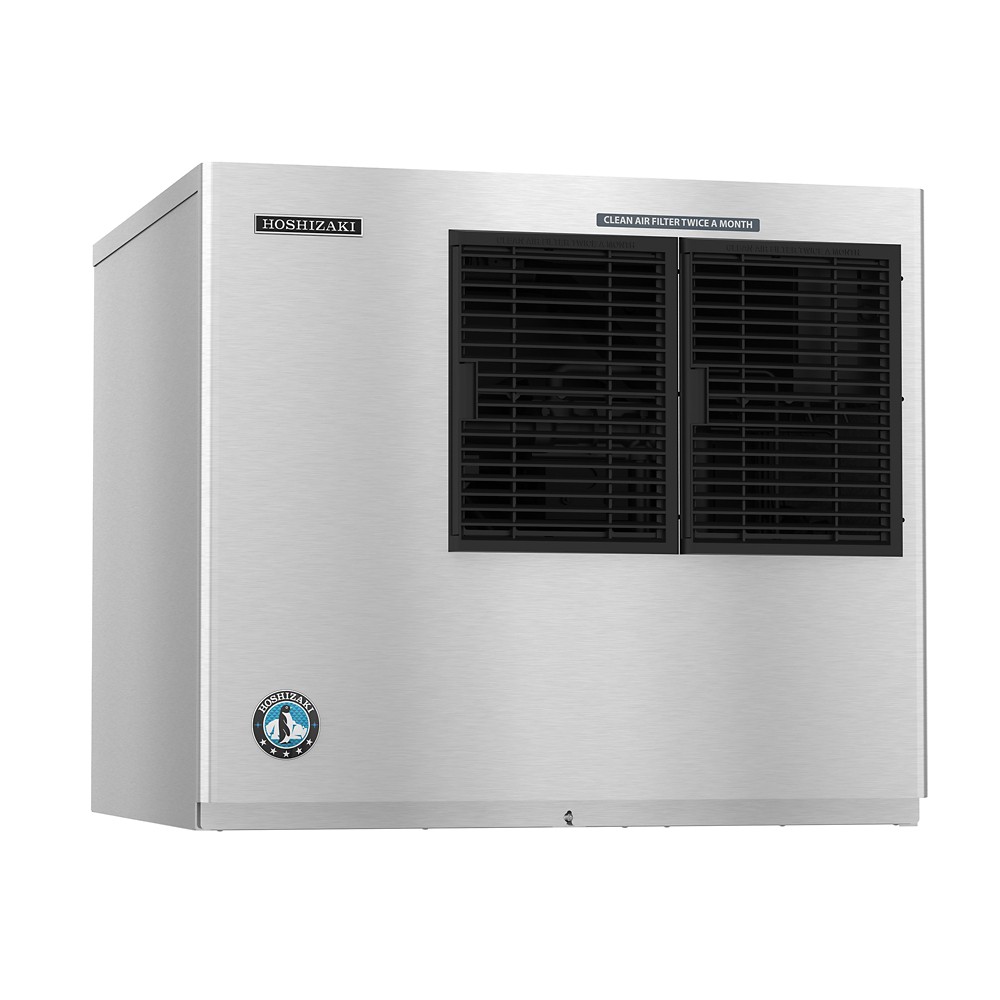 Featured Commercial Ice Maker
Hoshizaki KML-500MAJ
---
Item #: 371025
Model #: KML-500MAJ
This low profile modular crescent cuber from Hoshizaki produces up to 404 lbs. of crescent cubed ice per 24 hours. It is a low height for restricted areas such as stairwells or low ceilings. This stainless steel ice machine is air cooled.
In Stock
Free Shipping
Shop Now >
Hoshizaki

Commercial Ice Storage Bins
Ice Storage Must-Have Features
Available with either stainless steel or vinyl clad exterior for easy cleaning and long lasting attractive appearance
Sturdy construction for side-by-side or stacked installations
Non-corrosive bin liner provide safe, sanitary storage of cubed or flaked ice
Foamed-in-place polyurethane insulation in all bin walls and bottom provides dependable ice storage
New baffle design increases ice accessibility by 30 percent
H-GUARD Plus® Antimicrobial Agent adds extra protection to the ice scoop.
Featured Commercial Ice Storage Bin
Hoshizaki B-500PF
---
Item #: 810645
Model #: B-500PF
This ice storage bin from Hoshizaki is perfect for use in hotels or restaurants. It is 30" wide and can hold up to 360 lbs. of ice. It has a PVC coated galvanized steel finish and polyethylene bin liner for sanitary storage. It is protected by H-GUARD Plus Antimicrobial Agent. This bin is silver and black and will blend with any kitchen or dining decor.
Free Shipping
Shop Now >
Hoshizaki

Food Prep & Undercounter Refrigeration
Food Prep Must-Have Features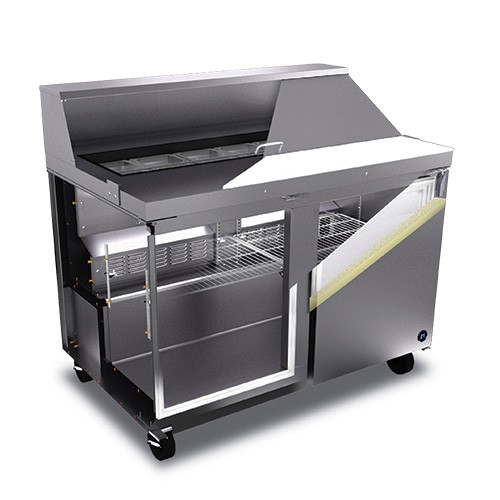 Stainless steel interior & exterior
Engineered to maintain NSF-7 temperatures in 100° F ambient
Self-closing, field reversible doors with stay-open feature
Recessed door gasket and stepped door design
Electronic thermostat with time initiated defrost
Cap tube refrigerant metering device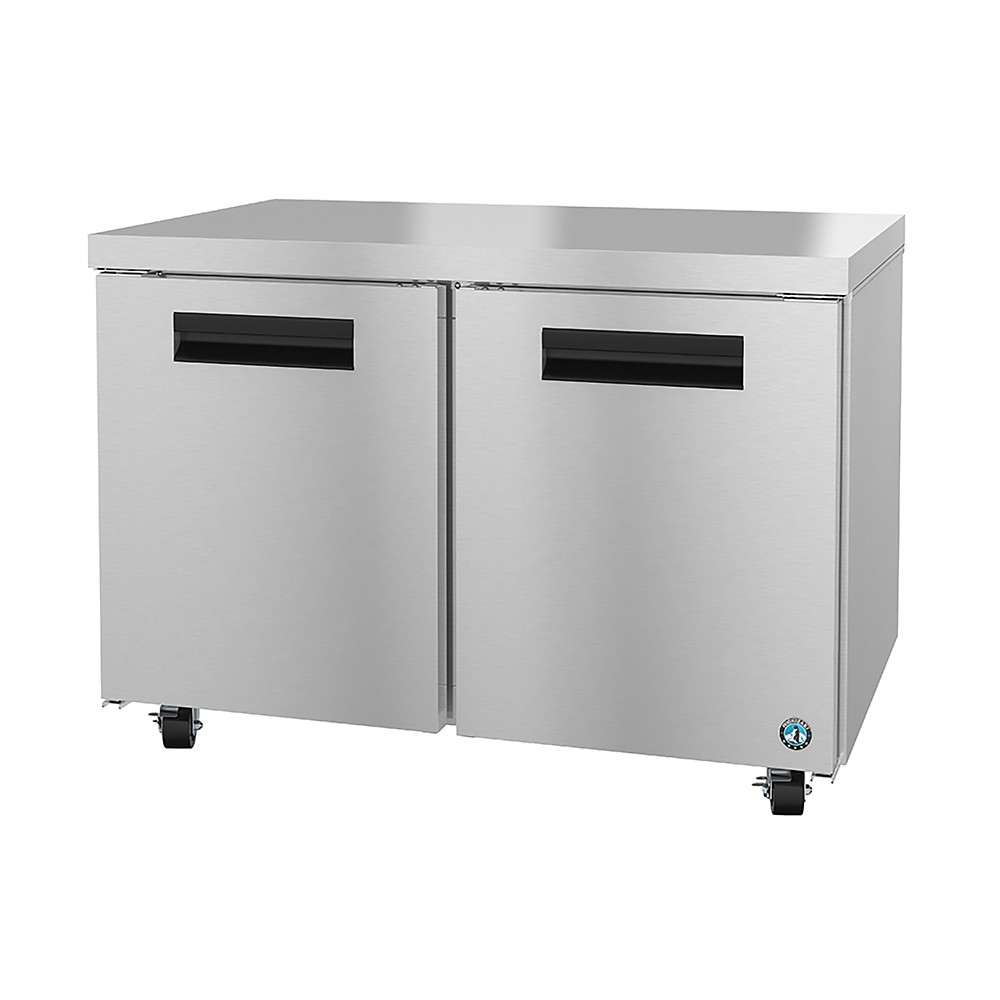 Featured Commercial Undercounter Refrigerator
Hoshizaki CRMR48/KDB-2012 Double Door
---
Item #: 6055821
Model #: CRMR48/KDB-2012
This commercial series undercounter refrigerator from Hoshizaki features a stainless steel exterior front, sides and top with stainless steel interior sides, back and floor. This unit features a front breathing air flow design and is engineered to maintain NSF-7 temperatures in 100°F ambient. The cabinet and doors are insulated with 2" CFC free, foamed-in-place polyurethane and the spring assisted self-closing door has a stay open feature for convenience.
Free Shipping
Shop Now >
---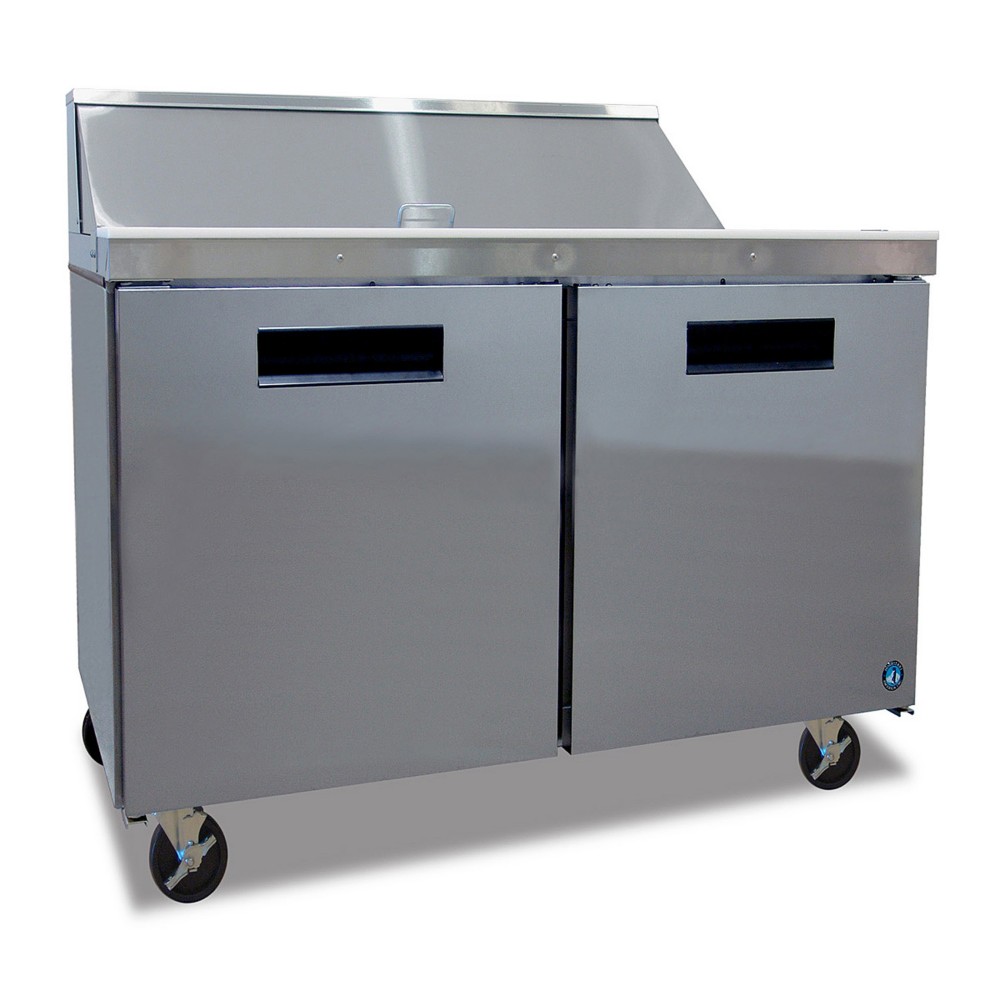 Featured Commercial Food Prep Table
Hoshizaki CRMR48-12M S/S 48" Mega Top
---
Item #: 6022015
Model #: CRMR48-12M
This Mega top refrigerator has a unique air distribution duct distributes air evenly to maintain product temperature. The door has a stay open feature so the contents are easy to access and the top has a full length cutting board and 12 ingredient pans.
Free Shipping
Shop Now >
Unbeatable Hoshizaki Warranty
3-Year Parts & Labor Warranty
5-Year Compressor Warranty
QR Code on the back of each unit for easy access to warranty and service information
Shop All Hoshizaki