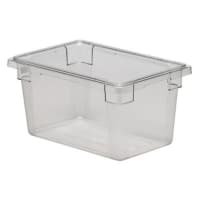 Food Boxes
Store and organize your commercial kitchen's food in our large range of food boxes and airtight lids by leading manufacturers such as Carlisle, Araven, Rubbermaid, Cambro and more!
Our selection of commercial food storage boxes come in every size from full to ninth, a range of shallow, medium, or deep depths, and in a choice of colors: blue, white, clear, red, and allergen purple.
Food storage boxes include features and functions based on the preferences of commercial foodservice operational staff. For instance, Araven and Carlisle food storage boxes have date indicator designs that make safety and inventory checks easy to accomplish.
Or if you are looking for a better way to store produce, Rubbermaid's Freshworks series includes a filter to regulate the flow of oxygen and ethylene, resulting in fresher produce for longer periods of time.
Stock up on NSF listed food storage boxes and airtight lids today for the organized commercial kitchen of your dreams!
Product List
Item #: 109500

Model #: 12186P148

By: Cambro

Sold As: Each

Item #: 108700CM

Model #: 12189CW135

By: Cambro

Sold As: Each

Item #: 108600CM

Model #: 182615CW135

By: Cambro

Sold As: Each

Item #: 108900CM

Model #: 12183CW135

By: Cambro

Sold As: Each

Item #: 1089000

Model #: 1061007

By: Carlisle

Sold As: Each

Item #: 109100CM

Model #: 12186CW135

By: Cambro

Sold As: Each

Item #: 1091000

Model #: 1061107

By: Carlisle

Sold As: Each

Item #: 109302

Model #: 12189P148

By: Cambro

Sold As: Each

Item #: 1090000

Model #: 1062107

By: Carlisle

Sold As: Each

Item #: 109000CM

Model #: 18266CW135

By: Cambro

Sold As: Each

Item #: 1085000

Model #: 1062207

By: Carlisle

Sold As: Each

Item #: 108500CM

Model #: 18269CW135

By: Cambro

Sold As: Each