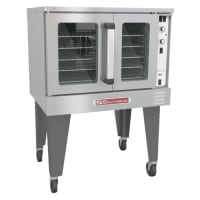 Commercial Convection Ovens
You can find a convection oven in nearly every commercial kitchen. Whether you are a bakery crafting confections and sweets or a diner roasting vegetables, chicken and turkey, a convection oven is an essential piece of commercial cooking equipment. Depending on your menu and how often you roast or bake, we have multiple options for each restaurant's needs.
Need to increase your output? Ramp up with a double stack. Need something with a smaller footprint? We have half and full sized countertop convection ovens available that can handle the workload while reducing space. If you don't see what you need, be sure to call so we can find the best oven for your business.