Commercial Blender & Juicer Buying Guide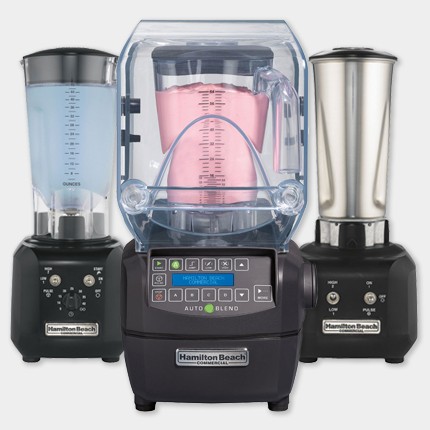 You need a new commercial blender or juicer - but do you know what to look for when shopping? A blender suitable for a smoothie bar may not be ideal for a hospital cafe.
Use our handy buying guide to find out which commercial blender is right for your establishment. Choose Hamilton Beach Commercial blenders and juicers to make sure you get only a premium piece of countertop equipment.
Buying Guide Contents
Drink Blenders
Drink blenders serve two primary purposes: to crush ice and then blend a great drink or smoothie. The more powerful the motor and better designed blades and jars, the creamier the drink profile with few or no ice chunks. Auto shut-off timers are perfect for busy bars and smoothie shops - set the time and the blender will shut off on its own so that employees can multitask.
Must-Have Features
Powerful motor to crush ice and blend quickly
Durable blades and motor drive coupling
Two speeds (at least) and pulse
Timer for efficient multitasking
Easy to clean and maintain
Drink Blender Types
1 - 15 Drinks Per Day
15 - 25 Drinks Per Day
25 - 50 Drinks Per Day
50+ Drinks Per Day
75+ Drinks Per Day
Specialty Drink Blenders
Compare Drink Blenders Side-By-Side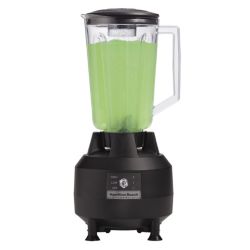 908 / 909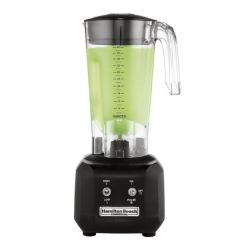 Rio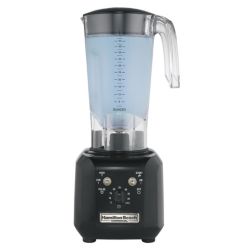 Tango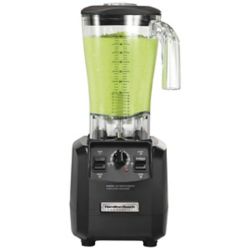 Fury / Tempest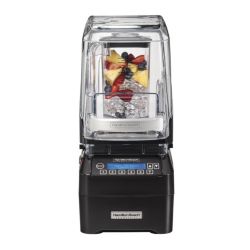 Eclipse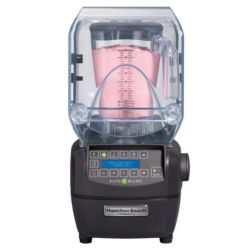 Summit
Features
Dependable and easy to use
Wave~Action System for smooth results
Adjustable timer provides hands-free blending
Powerful precision blending with easy-to-use paddle switches
QuietBlend technology - blend at the noise level of a normal conversation
One-touch blending with AutoBlend
Application
Smoothies and Frozen Drinks
Smoothies and Frozen Drinks
Smoothies and Frozen Drinks
Smoothies and Frozen Drinks
Smoothies and Frozen Drinks
Typical Drinks/Day
Ice
Average Time
Power
Jar Capacity
44 oz / 1.25 L
or
32 oz / .95 L
48 oz / 1.4 L
or
64 oz / 2 L
Drive Coupling
Warranty
Commercial Blender Accessories
Top 3 Reasons to Choose
Hamilton Beach Commercial Blenders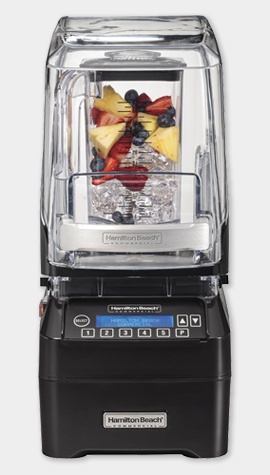 Top Performance

Powerful motors, smart jar design, and durable blades for long-lasting and efficient blending.

Best Warranty

On High-Performance Blenders: 3 years parts and labor, lifetime warranty on blades and motor coupling, first two years ExpressCare replacement.

Low Maintenance

Blades can be easily replaced in the field when they have dulled over time. Lifetime warranty for blades and motor coupling ensures maximum ROI for High-Performance Blenders.
Food Blenders
Food blenders, also known as culinary blenders, are made for the culinary professional who needs a powerful and reliable machine to chop, blend, or puree food. The ability to vary the speed makes it ideal for a variety of applications. From soups and sauces, marinades and dressings, to even thick creations like hummus and nut butters, EXPEDITOR™ Culinary Blenders from Hamilton Beach give commercial kitchens the reliable performance they need to create awesome food.
Must-Have Features
Variable speed for a variety of tasks
Powerful motor to work through thick ingredients
Secure lid for safety with hot ingredients
Durable blades and motor drive coupling
Easy to Clean
Food Blender Types
Small Quantity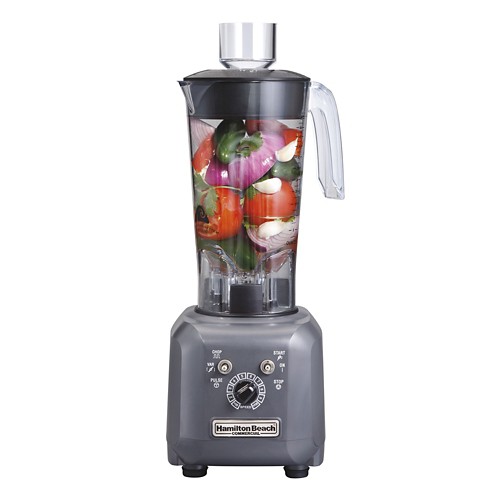 For smaller kitchen operations, the 500 Series Culinary Blenders offer an affordable solution to blending versatility and reliability. The easy-to-use toggle switches, variable speed dial, and one-touch CHOP function allow for blending consistency over a wide range of applications, from pureeing to emulsifying.
S-version for all food blenders feature a stainless steel container.
Shop HBF 500
Shop HBF 500 S
Medium Quantity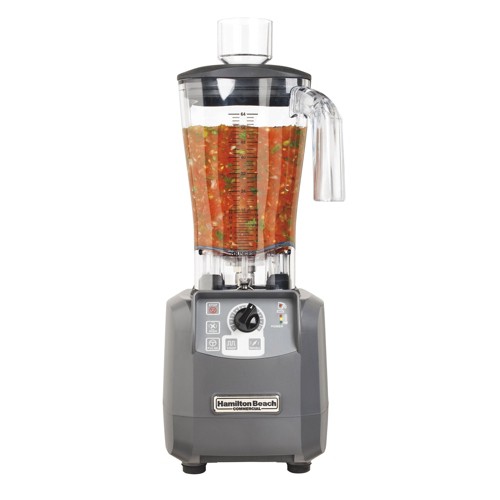 When you need optimum performance and versatility in your kitchen, nothing beats the 600 Series from Hamilton Beach Commercial. These advanced culinary blenders are that step-up you need for the busier commercial kitchen with their 3 Hp motor, 64 oz container size, handy temperature gauge, lifetime warranty on blades and motor couplings, and three year blender warranty.
Shop HBF 600
Shop HBF 600 S
Large Quantity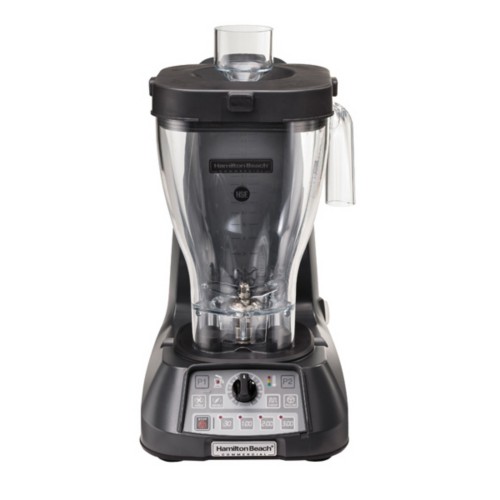 The 1100 Series takes the top spot for high-volume, high-performance commercial food blending. Loaded with extra features, a powerful 3.5 Hp motor, and one-gallon capacity, the 1100 series blenders are the only choice for continuous heavy blending. Consider the popular 1100 S for the heavy duty stainless steel jar that can withstand thick recipes and large batches.
Shop HBF 1100
Shop HBF 1100 S
Compare Food Blenders Side-By-Side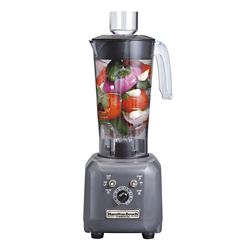 HBF 500 / HBF 500 S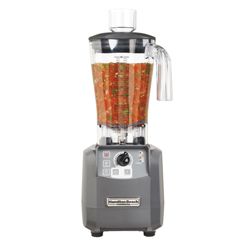 HBF 600 / HBF 600 S
HBF 1100 / HBF 1100 S
Application
Chunky Salsa & Compotes
Sauces
Emulsifications
Grinding Beans, Nuts, Rice
Purees - Soups & Sauces (cooked)
Chunky Salsa & Compotes
Sauces
Emulsifications
Grinding Beans, Nuts, Rice
Purees - Soups & Sauces (cooked)
Purees - Raw Vegetables & Fruit
Chunky Salsa & Compotes
Sauces
Emulsifications
Grinding Beans, Nuts, Rice
Purees - Soups & Sauces (cooked)
Purees - Raw Vegetables & Fruit
Thick Recipes with Little Liquid
Large Batches
Capacity
Special Features
Cross-Contamination bands available
or
Over-Molded Handle
Cross-Contamination bands available
or
Over-Molded Handle
Timer Touchpad / Custom Program Buttons
or
See-Thru Lid, Timer Touchpad / Custom Program Buttons
Power
Container Size
48 oz / 1.4L Polycarbonate
or
64 oz / 1.8 L Stainless Steel
64 oz / 1.8L Polycarbonate
or
64 oz / 1.8 L Stainless Steel
128 oz / 4L Polycarbonate
or
128 oz / 4 L Stainless Steel
Chop Function with Speed Control
Speeds
Dosing Cup
Temperature Gauge
Warranty
Clear vs. Solid Blender Jars
CLEAR: Made of polycarbonate. Popular for drink blenders. Easy to see contents and costs less than stainless. Prone to scratching and clouding over time depending on excessive exposure to cleaning chemicals and sanitizers.
SOLID: Made of stainless steel. Popular for food blenders. Preferred by chefs for its durability and performance under extreme temperatures - cold and hot. Higher-end jars can handle thick ingredients like hummus better than the clear alternative.
Food Blender Accessories
Juicers
There are many types of juicers ranging from citrus juicers, to centrifugal juice extractors, to specialty juicers for things like wheatgrass. Juicers can be of the more economical manual variety or electric for speed and volume.
Must-Have Features
Maximum juice extraction design
Fast and simple operation
Quiet with induction motors
Dependable for high volume
Easy to clean smooth surfaces and few moving parts
Juicer Types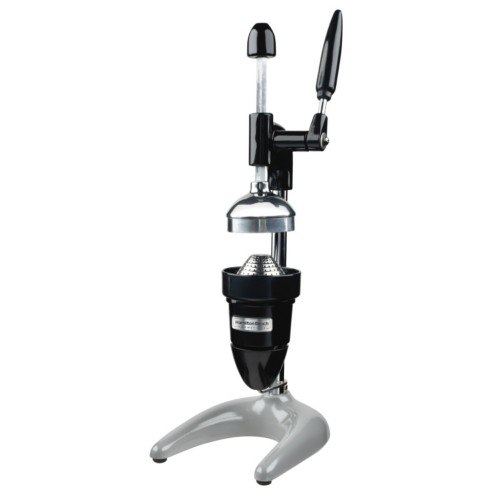 Manual Juicer
You can get the maximum juice extraction with the extractor arm that will exert up to 2,000 lbs of force to ensure maximum juice output with minimum skin oil and pulp residue. It is built with heavy duty gears for years of durability.
Shop Now
Electric Juicer
This juicer is designed for the fast, easy extraction of fresh juice from oranges, lemons, limes and grapefruits. Heavy duty metal housing, durable strainer, and reamers.
Shop Now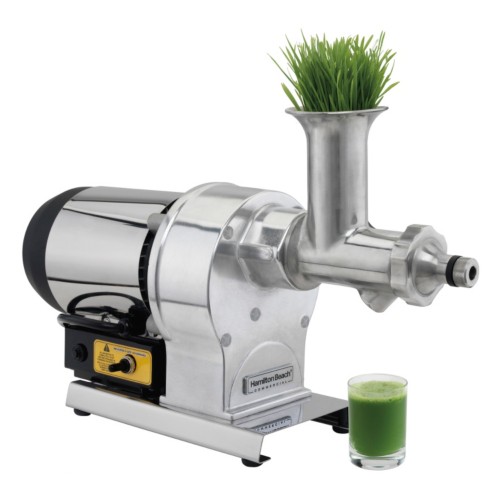 Wheatgrass Juicer
Are you on board with the wheatgrass juicing train yet? Consider the health benefits of wheatgrass and then consider what type of machine you'll need to get the job done. The HWG800 Wheatgrass Juicer features a high-torque motor, surgical-grade stainless steel internal assembly, and removable food zone parts for quick cleaning.
Shop Now
What is
Wheatgrass?
Nutrient-rich type of young grass in wheat family.
Provides concentrated amount of nutrients:
Iron
Calcium
Magnesium

Amino Acids
Chlorophyll
Vitamins A, C, and E
Believed to boost immunity, kill harmful bacteria in the digestive system, and rid body of wastes.
Commercial Juicer Accessories
Drink Mixers
Drink mixers are ideal for high volume milkshakes, ice cream drinks and mix-in creations, but they can also be helpful when blending eggs, pancake and waffle batter, and even for "flashing" bar drinks. They typically have one-hand activation and a quick-replace motor to keep you up and running. To save space, others offer the convenience of wall- or machine-mounting.
Must-Have Features
Fast and simple operation
Ergonomic for employees
Durable for high use
Easy to clean and maintain
Drink Mixer Types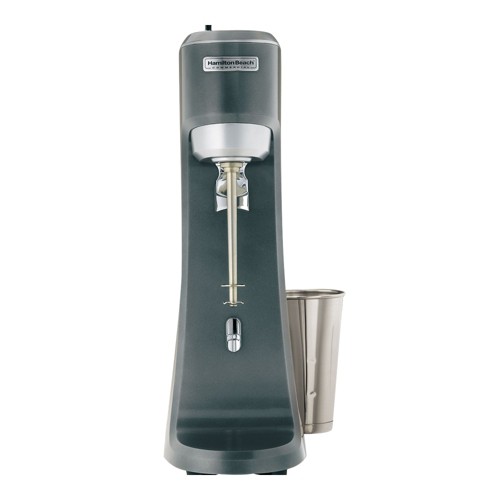 Single Spindle
This single spindle drink mixer has a more powerful motor so it mixes up to twice as fast. This is a versatile drink and food preparer.
Shop Now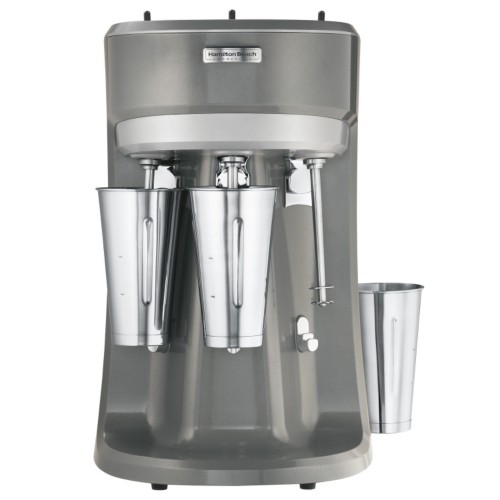 Three Spindles
Each motor works independently with its own power switch. Can start and stop by inserting the cup into the cup guide or by using the pulse switch on top of the mixer. Comes with 3 stainless steel cups.
Shop Now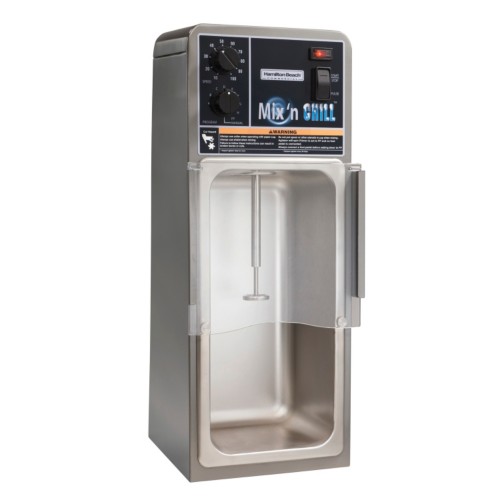 Heavy Duty
This Hamilton Beach Commercial Mix 'n Chill Drink Mixer has a Smart-Start™ mixing shaft, which easily starts the motor. This mixer has manual mode and programmed cycles, and features variable speed control.
Shop Now
Drink Mixer Accessories