Table of Contents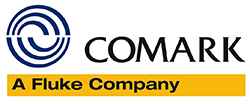 Comark Instruments has over 50 years experience as a leading, international manufacturer of high quality, precision thermometers, data loggers and wireless monitoring solutions, supplying over one million instruments per year.
Why Do We Use Thermometers?
Reduce the risk of foodborne illness
Even the most experienced kitchen employee can't tell if safe internal temperatures have been reached just by looking at the food. The only way to check that the correct internal temperature has been reached and remove any uncertainty is to use a probe thermometer.
Avoid overcooking
As well as serving safe food, cooking food consistently to the correct temperature will give you the best quality too. Thermometer temperature checks will help you balance safety versus perfectly cooked. All Comark pocket digital thermometers now have the thin tip and are field calibratable. This means that if your HACCP plan states you must prove your thermometers temperatures, you can do this by placing the thermometer into an ice/water mix. This is an automated process and is activated by a few button presses.
Check safe storage temperatures
The use of thermometers is not limited to the cooking of food; there is a whole section of thermometers devoted to the monitoring of food storage areas. They allow you to check temperatures in walk-in coolers, freezers, chillers, plus front of house cold and hot holding cabinets.
Equipment checks
Thermometers can be used to verify oven temperatures to prevent hot spots affecting recipes or to prove that commercial dishwasher cycle temperatures are correct.
Comark has three thermometers that can be used in commercial dishwashers to prove the rinse cycle temperature. These are the KM14, PDQ400, & the DT400.
Pocket Digital Thermometers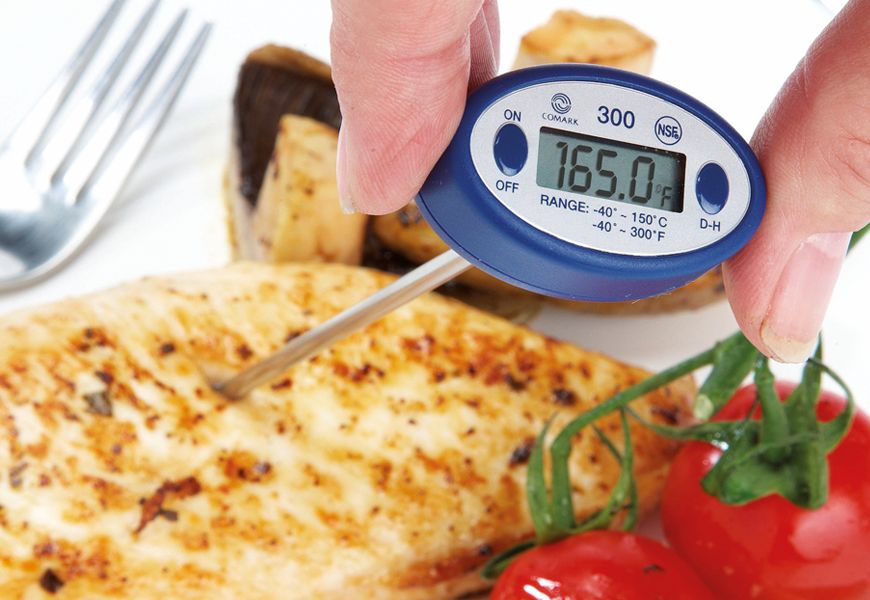 Must-Have Features
LCD display easy to read
1.5mm thin tip probes meet FDA food code
Data hold for ease of temperature recording
Auto switch-off saves battery life
Field calibratable
Comark Pocket Digital Thermometers are fast, accurate and reliable with easy to read display screens.
All models are NSF certified and feature a protective cover with clip so they fit easily into the chef's coat pocket. They are perfect for chefs, line cooks and food production lines. Choose from a variety of styles and temperature ranges.
Featured Pocket Digital Thermometers
Food Thermometers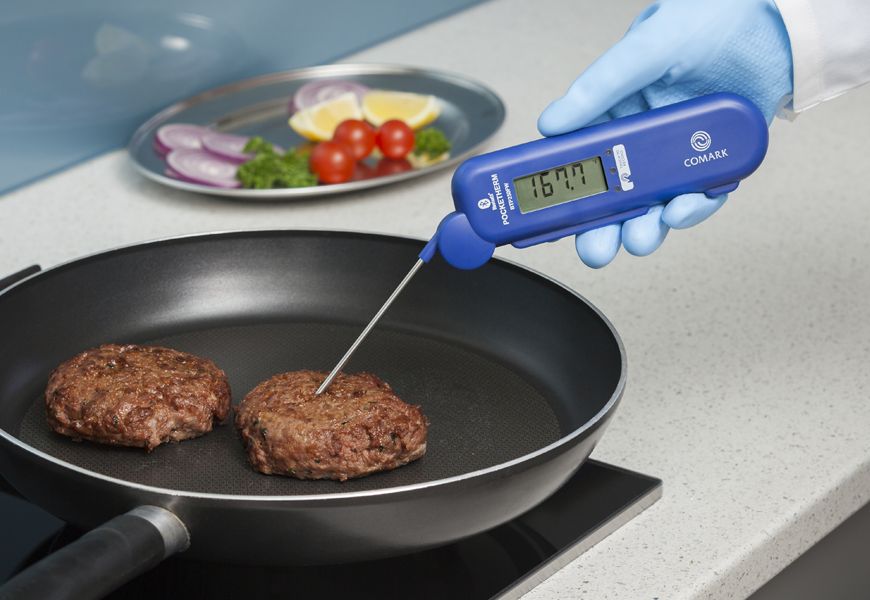 Must-Have Features
Choice of probes with some models to suit your application
Auto switch-off saves battery life
Fast response times
Water resistant
Check for safety and quality with Comark thermocouple and thermistor thermometers.
Comark food thermometers are designed for versatility and ease of use. They have clear digital displays and can be used with a wide variety of interchangeable probes. Use to check between packs, core temperatures, surface temperatures and more. For those busy line checks, there is also folding pocket thermometer with integral probe.
Thermocouple vs. Thermistor
Thermocouple: Thermocouple sensors are reliable and accurate across a wide temperature range. The type K is the most common type of thermocouple.
Thermistor: Thermistor sensors offer the highest accuracy is within the -58 to 302°F temperature but the reading takes slightly longer than a thermocouple to stabilize.
Featured Food Thermometers
Infrared Thermometers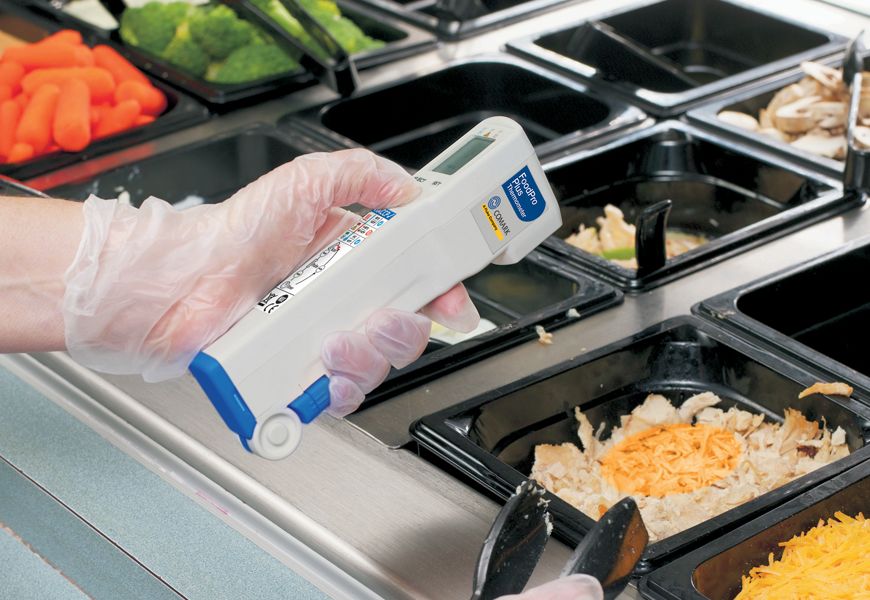 Must-Have Features
Hold function to freeze displayed readings
Laser sighting to pin point target area
Switchable scale °F/°C
Non-contact avoids damage to product
Comark infrared instruments enable quick, non-invasive surface temperature checks.
Infrared thermometers provide accurate temperatures without having to touch the object being measured. They are great for measuring frozen foods or packs on delivery. Where a core temperature is also required, the Comark Food Pro Plus features a flip down probe.
Featured Infrared Thermometers
Automated Temperature Monitoring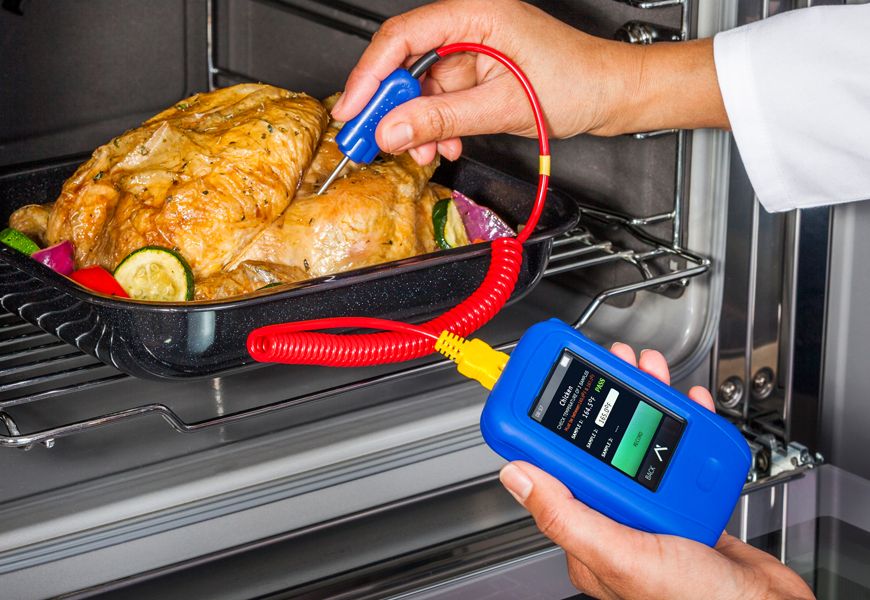 Must-Have Features
Automated temperature collection
Compact design saves expensive labor time
Simple to operate software
Electronic temperature files
Automate your HACCP data collection with Comark logging thermometers and reduce paperwork with electronic records.
All food businesses are required to have a robust HACCP plan in place. Comark's HACCP Touch provides users with flexibility to tailor to their own HACCP plan, as well as reliability in data storage for reference in the food safety audit trail. It prompts users when corrective action is needed and is easy to navigate.
What is HACCP?
HACCP – Hazard Analysis and Critical Control Points – is a widely accepted food safety management system that focuses on all segments of the food industry from growing, harvesting, processing, manufacturing, distributing, and merchandising to preparing food for consumption. The system can be easily adapted to suit all types and size of food business with a focus on preventing food safety problems before they occur. There is international acceptance from the relevant authorities as an effective means of controlling food-borne diseases.
Dial Thermometers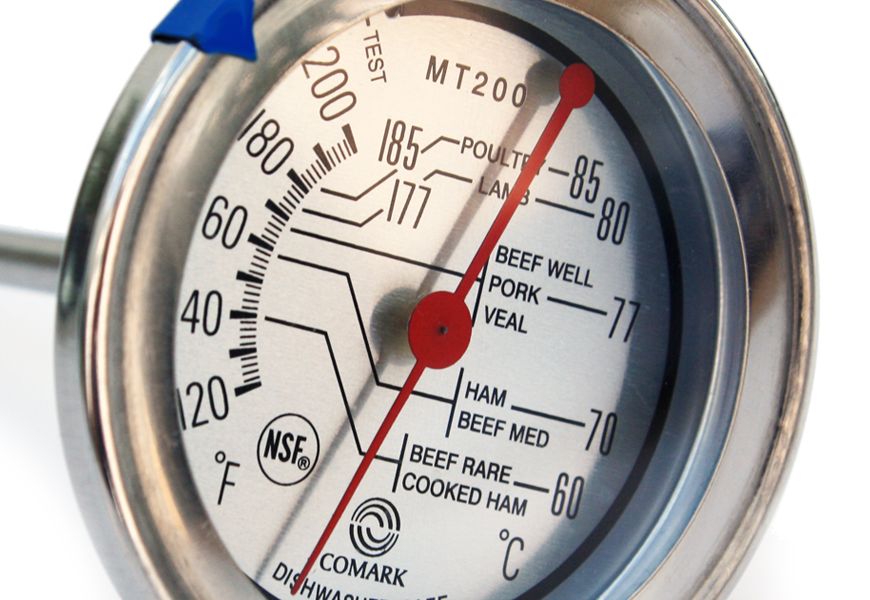 Must-Have Features
Plastic water tight lens
Stainless steel construction
Easy to read scale
Models with probe shaft or to hang or stand
Comark has a wide range of Dial Thermometers, suited to a variety of applications.
Sometimes referred to as a bi-metallic thermometer, Comark dials are easy to use. Whether you are looking to make the perfect coffee, take core product temperatures, measure your oven or grill there is a dial thermometer for you! When calibration is required, just use two fingers to adjust the calibration nut – no special tool required.
Featured Dial Thermometers
Refrigerator & Freezer Thermometers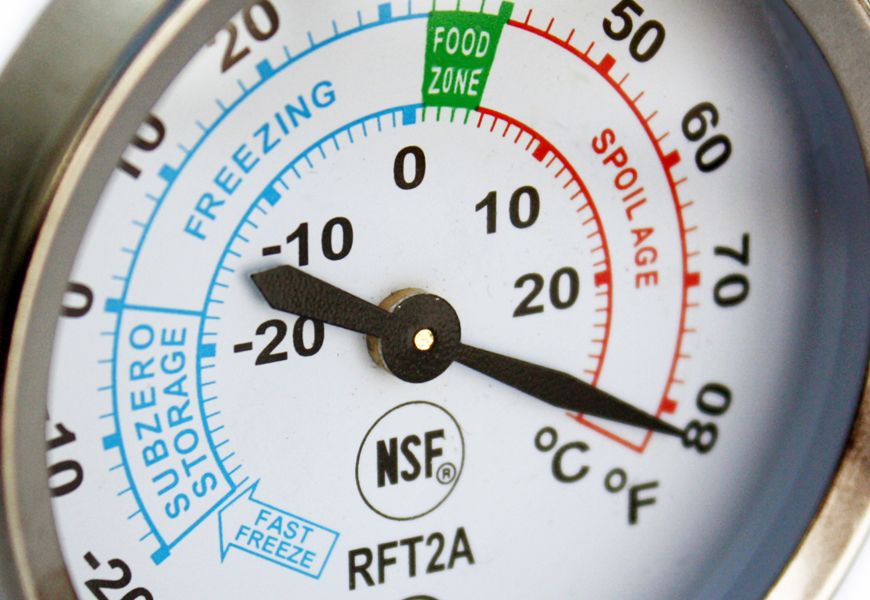 Must-Have Features
Choice of digital or dial models
Hang, stand or fix with magnet inside cabinets
Stainless steel construction on dials
Easy to read bold numbers
Check cold storage areas are functioning at the correct temperatures for optimum food safety.
Comark refrigerator and freezer thermometers come with hooks and/or magnets so they can be placed conveniently inside the cabinet being measured. Clear displays make it easy to see temperature readings.
Featured Refrigerator & Freezer Thermometers
Dishwasher Thermometers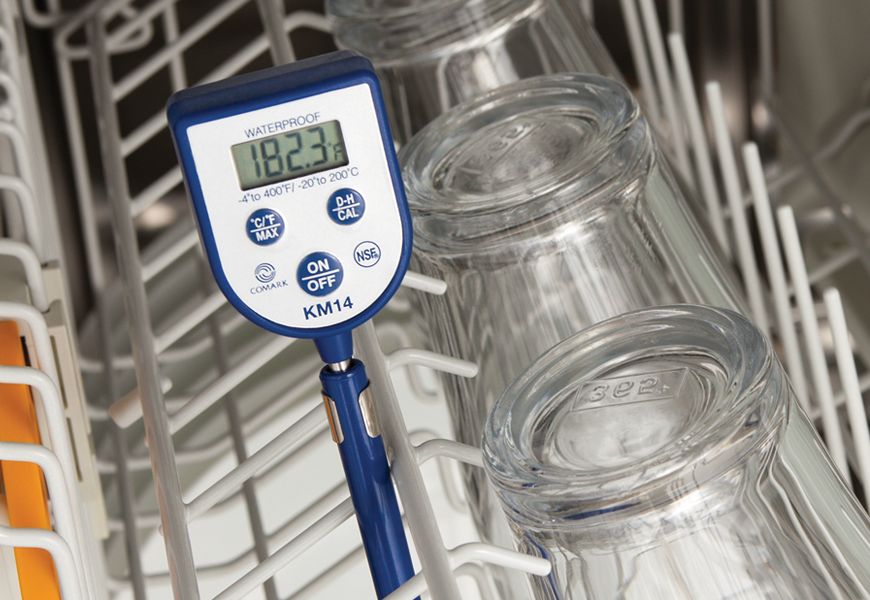 Must-Have Features
LCD display easy to read
High temperature data hold
Auto switch-off saves battery life
Field calibratable
Check commercial dishwasher final rinse temperatures with Comark thermometers. All thermometers have a high temperature data hold feature that enables you to validate that the final rinse temperature is high enough to sanitize your equipment.
Featured Dishwasher Thermometers
Comark Kitchen Checks
Automate temperature data collection using Comark's BT250 Bluetooth Pocketherm Thermometer together with the free Comark Kitchen Checks App. You can build and operate a complete HACCP program without the need for pen or paper!
Designed for use in the kitchen and other food production areas, the BT250 Pocketherm transmits temperature data via Bluetooth to your smart phone or tablet, managing all your HACCP temperature recording in one place.
Load all your required critical control checks on refrigerators, coolers, walk-ins and freezers. You can also monitor receiving at the back door and essential cleaning checks. Using corrective action prompts, any exceptions are dealt with in the same way every time regardless of shift and staff changes. Essentially it is your current HACCP Plan, your way – but now in a free app!
Comark BT250KC Kitchen Checks Bluetooth Pocketherm