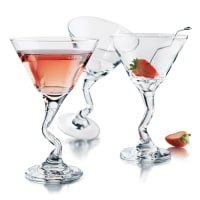 Z-Stem Glassware by Libbey Shop for martini glasses and margarita glasses that have a bit of flair in the stem. Z-Stem glassware from Libbey® offers you traditional glassware while incorporating a bit of fun in the design. Give your barware or drink menu an update with one of these cocktail glasses. If you like this glassware, then be sure to check out
Bravura
glassware from Libbey®.
More
Libbey® Z-Stem Glassware
Shop Z-Stem glassware from Libbey® at Wasserstrom. Z-Stem glasses are a fun way to serve drinks with their unique shape and design. If you love this glassware, then shop Wasserstrom.com for Libbey® Cosmopolitan and Bravura glassware collections.
Order Libbey® Z-Stem Glassware
Order the fun style of Libbey® Z-Stem glassware today. Ordering online at Wasserstrom.com is fast and easy. To complement your Libbey® glassware, browse through our selection of china, flatware and other glassware. Wasserstrom has been providing affordable, quality restaurant equipment and supplies, as well as our excellent customer service for more than 100 years. For questions about Libbey® glasses and other supplies for your restaurant, please call Customer Service.