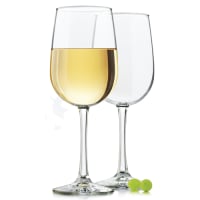 Vina Glassware by Libbey Libbey® Vina™ glassware at Wasserstrom. Vina™ and
Vina II
glassware have attractive, contoured shapes incorporating style and versatility. Get Vina™ balloon wine glasses, Vina™ decanters, Vina II wine glasses, Vina™ martini glasses and more Vina™ glasses. Find the perfect china pattern to accompany your Vina™ glasses, among our collection of
World Tableware china
.
More
Libbey® Vina™ Glassware
Shop Vina™ and Vina II glassware from Libbey®, at Wasserstrom. Vina™ wine glasses, Vina™ decanters, Vina™ taster glasses and more Vina™ glasses. These glasses are crystal-clear and beautifully showcase beverages with grace and distinction. Pair your Vina™ glassware with china from Syracuse china .
Order Libbey® Vina™ Glassware
Order Libbey® Vina™ glassware today. Ordering online at Wasserstrom.com is fast and easy. To complement your Libbey® glassware, browse through our selection of china, flatware and other glassware. Wasserstrom has been providing affordable, quality restaurant equipment and supplies, as well as our excellent customer service for more than 100 years. For questions about Libbey® glasses and other supplies for your restaurant, please call Customer Service.
Product List
Item #: 108033

Model #: 7500

By: Libbey

Sold As: Case of 12

Item #: 118334

Model #: 7510

By: Libbey

Sold As: Case of 12

Item #: 103329

Model #: 7512

By: Libbey

Sold As: Case of 12