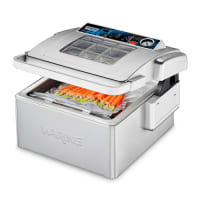 Commercial Vacuum Sealers
Vacuum sealing is a highly-efficient and cost-effective way to store food and ingredients in your commercial kitchen. We carry entry-level and advanced vacuum sealers from trusted brands, including: VacMaster, Waring Commercial, Hamilton Beach Commercial, Vollrath, and Vulcan.
Why vacuum seal food? Commercial vacuum sealing can reduce food waste, eliminate freezer burn, increase the shelf life of ingredients, and protect from effects of harmful microorganisms. Professional chefs can also utilize industrial vacuum sealing as an important step in sous vide cooking – where pre-prepped food is sealed and then cooked in a water bath.
Also explore: Immersion Circulators