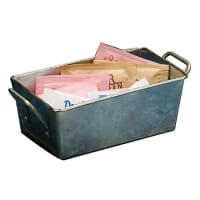 Sugar Caddies, Pourers and Shakers
Sugar packet holders, cheese shakers and dredges are important for letting guests get their preferred flavor for drinks and dishes. Whether it's made from glass to metal, we've got a variety of styles and manufacturers to choose from. You're sure to find what you need at Wasserstrom.com.
More
Sugar Caddies, Pourers and Shakers
Whether it's a cheese shaker for your pizza business, a sugar pourer for your coffee shop, or a sugar packet holder for your tabletop, shop by your business type to find specially selected items that are ideal for your business. Ordering online is fast and easy. If you would like additional information or specifications, please contact our Customer Service department at 1-877-425-8906.
Product List
Item #: 6044695

Model #: TSH008GOS22

By: Front Of The House

Sold As: Case of 6

Item #: 6044694

Model #: TSH001GOS93

By: Front Of The House

Sold As: Case of 12

Item #: 6044687

Model #: DMU021GOS22

By: Front Of The House

Sold As: Case of 6

Item #: 6044686

Model #: DMU020GOS22

By: Front Of The House

Sold As: Case of 6

Item #: 307983

Model #: TSH003WHP23

By: Front Of The House

Sold As: Case of 12

Item #: 6021513

Model #: BBK046GOI22

By: Front Of The House

Sold As: Each

Item #: 856774

Model #: TSH006PTI22

By: Front Of The House

Sold As: Case of 6

Item #: 801035

Model #: TSH008BSS22

By: Front Of The House

Sold As: Case of 6

Item #: 128386

Model #: TSP008WHP23

By: Front Of The House

Sold As: Case of 12

Item #: 6105955

Model #: TSH001BKS93

By: Front Of The House

Sold As: Case of 12