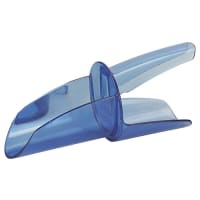 Bar Strainers, Funnels and Scoops Every bartender needs cocktail strainers, funnels and scoops, and we provide them in stainless steel and high density polyethylene plastic. Your bartender will be able to make any and every cocktail, with our wide variety of
bar supplies
.
More
Bar Strainers, Funnels and Scoops
Selecting the right strainers, funnels and scoops is important to ensure guests are served the highest quality drinks. Make sure your bartender has all the tools he needs. Shop Wasserstrom for all your bar supplies, including bar pourers, bar matting, bottle stoppers, corks, and the swords and picks needed for garnishment. Shop the affordable selection of bar supplies at Wasserstrom.com to keep your bar well stocked.
Shop Bar Strainers, Funnels and Scoops Today
Order strainers, funnels, and scoops for your bar or restaurant today and get them at an affordable price. Ordering online at Wasserstrom.com is easy and fast, with more items shipped out in one to two business days. If you have any questions about our speed racks, bar matting and other bar supplies, or would prefer to place your bar supplies order by phone, please contact Customer Service.
Product List
Item #: 987534

Model #: SI5000

By: Carlisle

Sold As: Each

Item #: 650630

Model #: SI9000

By: Carlisle

Sold As: Each

Item #: 650629

Model #: SI7000

By: Carlisle

Sold As: Each