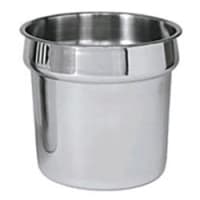 Round Insert Food Pans Round insert stainless steel food pans at Wasserstrom. Get round insert stainless steel food pans from Browne Halco, round insert stainless steel food pans from Cambro, and more round insert
stainless steel food pans
.
More
Stainless Steel Round Insert Pans
Buy stainless steel round insert pans online at Wasserstrom.com. These stainless steel insert pans are have excellent thermal transfer to reduce food safety risks. Find stainless steel insert pans from Vollrath, Carlisle®, and more stainless steel round insert pans. These stainless steel round insert pans are durable and great for serving or storing.
Order Stainless Steel Round Inert Pans
Order stainless steel round inert pans and quarter size stainless steel food pans today and have your stainless steel food pans delivered to your door. Ordering online is fast and easy, with more items shipped out in one to two business days. If you have any questions about our collection of stainless steel food pans, or would prefer to place your restaurant supplies order by phone, please contact Customer Service.
Product List
Item #: 100900

Model #: 78204

By: Vollrath

Sold As: Each

Item #: 497782

Model #: 78194

By: Vollrath

Sold As: Each

Item #: 100700

Model #: 78184

By: Vollrath

Sold As: Each

Item #: 6031062

Model #: 88184

By: Vollrath

Sold As: Each

Item #: 100800

Model #: 78164

By: Vollrath

Sold As: Each

Item #: 6001148

Model #: 78174

By: Vollrath

Sold As: Each

Item #: 368871

Model #: 372-66/36

By: Spring U.S.A.

Sold As: Each

Item #: 100409

Model #: 78154

By: Vollrath

Sold As: Each

Item #: 368309

Model #: 372-66/36/12

By: Spring U.S.A.

Sold As: Each

Item #: 231721

Model #: 47490

By: Vollrath

Sold As: Each

Item #: 231722

Model #: 47488

By: Vollrath

Sold As: Each

Item #: 100307

Model #: 47486

By: Vollrath

Sold As: Each

Item #: 231740

Model #: 22470-1

By: Vollrath

Sold As: Each