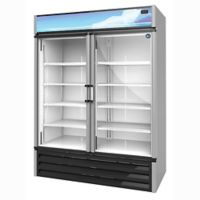 Glass Door Refrigerated Merchandisers and More Refrigerated Merchandisers! Refrigerated merchandisers will display all of your items needing refrigeration in a solid door refrigerated merchandiser or an open air refrigerated merchandiser. Refrigerated merchandisers offer customers easy access to deli items like potato salad and pasta salads that require storage in cooler temperatures. At Wasserstrom, you'll find the refrigerated merchandiser ideal for your business!
For additional Large Equipment information or specifications, please contact our Customer Service department at 1-877-425-8906.
More
Refrigerated Merchandisers
Shop refrigerated merchandisers online at Wasserstrom.com. Get a refrigerated merchandiser from True® or Beverage-Air at Wasserstrom.com. Also shop the great selection of freezer merchandisers at Wasserstrom.
Purchase a Refrigerated Merchandisers
Order your refrigerated merchandiser from True® or Beverage Air have a refrigerated merchandiser delivered to your door. Ordering online at Wasserstrom.com is easy and fast, with most in-stock items shipping out in 2-3 business days. For exact shipping estimates, questions about our collection of refrigerated merchandisers, or to place your restaurant supplies order by phone, please contact Customer Service.