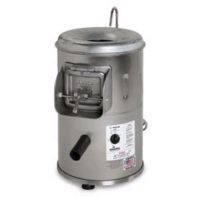 Potato and Vegetable Peelers
Wasserstrom has potato and vegetable peelers designed to save precious time in the kitchen. These peelers can do in minutes what would take a person hours to do without bruising or waste.
For additional Large Equipment information or specifications, please contact our Customer Service department at 1-877-425-8906.
More
Vegetable Peelers and Potato Peelers
Shop potato peelers and vegetable peelers at Wasserstrom.com online today. Peel vegetables quickly with our collection of peelers. Find top-quality Hobart® vegetable peelers, Univex potato peelers and more vegetable peelers and potato peelers.
Order Your Portable Vegetable Peeler or Tabletop Vegetable Peeler
Order your portable vegetable peeler today and have your vegetable peeler arrive within a few days. Ordering online is easy and fast with most in-stock items shipping out in 2-3 business days. For exact shipping estimates, questions about our collection of vegetable peelers and potato peelers, or to place your restaurant supplies order by phone, please contact Customer Service.