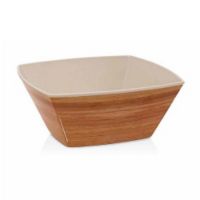 Platewise™ Organic Dinnerware Shop for
bamboo dinner plates
,
bamboo bowls
and bamboo ramekins from Front of the House. Platewise™ is a revolutionary, NEW, stylish and TRUE GREEN alternative to traditional plastic and melamine dinnerware. These natural bamboo pieces are melamine free, reusable, non-toxic and biodegradable.
More
Platewise Organic Dinnerware
Select the
organic dinnerware
for the energy wise kitchen you need. Choose from a variety of types and items that have an Energy Star ratings. Also, shop for
re-usable food containers
at Wasserstrom.
Order Hobart Dishwashers and Perlick Coolers
Select your Hobart Energy Star dishwashers or the
Perlick Energy Star Coolers
today and have your products arrive within a few days. Ordering online is easy and fast, most In-Stock items ship out in 2-3 business days. For exact Shipping Estimates, please contact Customer Service. If you have any questions about our kitchen products or would prefer to place your
restaurant supplies
order by phone, please contact
Customer Service
.
Product List
Item #: 6005406

Model #: BBO032NAB22

By: Front Of The House

Sold As: Case of 6

Item #: 6005407

Model #: DBO094BBB22

By: Front Of The House

Sold As: Case of 6

Item #: 6005408

Model #: DBO095BBB23

By: Front Of The House

Sold As: Case of 12

Item #: 6005409

Model #: DBO096NAB22

By: Front Of The House

Sold As: Case of 6

Item #: 6005410

Model #: DDP041BBB22

By: Front Of The House

Sold As: Case of 6

Item #: 6005411

Model #: DDP042BBB22

By: Front Of The House

Sold As: Case of 6

Item #: 6059015

Model #: DBO119NAB23

By: Front Of The House

Sold As: Case of 12

Item #: 6005413

Model #: DSD044NAB23

By: Front Of The House

Sold As: Case of 12

Item #: 6005415

Model #: DSP020NAB22

By: Front Of The House

Sold As: Case of 6

Item #: 6005416

Model #: SPT042BBB22

By: Front Of The House

Sold As: Case of 6

Item #: 6005417

Model #: SPT043NAB22

By: Front Of The House

Sold As: Case of 6

Item #: 6030130

Model #: DBO115BBB23

By: Front Of The House

Sold As: Case of 12

Item #: 6039602

Model #: DBO118BBB23

By: Front Of The House

Sold As: Case of 12

Item #: 6039601

Model #: DBO106BBB22

By: Front Of The House

Sold As: Case of 6

Item #: 6039603

Model #: DAP066BBB23

By: Front Of The House

Sold As: Case of 12

Item #: 6046673

Model #: DBO117BBB23

By: Front Of The House

Sold As: Case of 12

Item #: 6052389

Model #: DDP075NAB22

By: Front Of The House

Sold As: Each

Item #: 6005412

Model #: DDP043NAB22

By: Front Of The House

Sold As: Case of 6

Item #: 6060922

Model #: DBO105NAB22

By: Front Of The House

Sold As: Case of 6

Item #: 6060921

Model #: DBO127NAB23

By: Front Of The House

Sold As: Case of 12