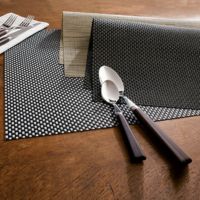 Vinyl Placemats, Basketweave Placemats, and More Placemats! Decorate your tabletop with Wasserstrom's placemats that will subtly enhance the look of any table with simple elegance. Bamboo placemats add unique style to wood tables and cloth placemats in a variety of colors and styles handsomely flatter stainless steel flatware while being easy to clean. Captivate your dinner guests with the placemats that will magnificently accentuate your dining table! We also have a great selection of
cloth napkins
to complete your place setting.
More
Placemats
Select the
Placemats
that for the condiment items you need. Choose from a variety of types and sizes. Also, shop for
cloth napkins
at Wasserstrom.
Order Glassware and Beverage Servers
Select your glassware or the
beverage servers
today and have your products arrive within a few days. Ordering online is easy and fast, most In-Stock items ship out in 2-3 business days. For exact Shipping Estimates, please contact Customer Service. If you have any questions about our collection of dining room and kitchen supplies or would prefer to place your
restaurant supplies
order by phone, please contact
Customer Service
.
Product List
Item #: 443764

Model #: XPM023BEV83

By: Front Of The House

Sold As: Case of 12

Item #: 128340

Model #: XPM028BKV83

By: Front Of The House

Sold As: Dozen

Item #: 462325

Model #: XPM029BKV83

By: Front Of The House

Sold As: Dozen

Item #: 729074

Model #: XPM037BKV83

By: Front Of The House

Sold As: Case of 12

Item #: 359349

Model #: XPM053COV83

By: Front Of The House

Sold As: Case of 12

Item #: 6057392

Model #: XPM106BLV83

By: Front Of The House

Sold As: Case of 12

Item #: 6059752

Model #: XPM107WHV83

By: Front Of The House

Sold As: Case of 12

Item #: 6019813

Model #: XRU007BKV80

By: Front Of The House

Sold As: Each

Item #: 6098659

Model #: XPM110MUV83

By: Front Of The House

Sold As: Case of 12

Item #: 128323

Model #: XPM041SIV83

By: Front Of The House

Sold As: Each

Item #: 128324

Model #: XPM042SIV83

By: Front Of The House

Sold As: Each

Item #: 621360

Model #: XPM056GRV83

By: Front Of The House

Sold As: Dozen

Item #: 6041927

Model #: RTL015SIV83

By: Front Of The House

Sold As: Case of 12

Item #: 6052254

Model #: RTL019BKL23

By: Front Of The House

Sold As: Case of 12

Item #: 247876

Model #: XPM022BEV83

By: Front Of The House

Sold As: Case of 12

Item #: 470332

Model #: XPM025TAV83

By: Front Of The House

Sold As: Case of 12

Item #: 295641

Model #: XPM027TAV83

By: Front Of The House

Sold As: Case of 12

Item #: 452271

Model #: XPM031MUV83

By: Front Of The House

Sold As: Case of 12

Item #: 439731

Model #: XPM032MUV83

By: Front Of The House

Sold As: Case of 12