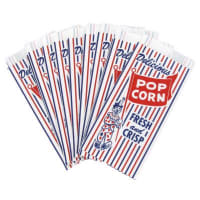 Misc Disposable Items Get
Grilling Cedar Wraps
,
Chill bags
and
Vacuum Seal Bags
at Wasserstrom.com. Get all the disposables items needed for your kitchen, plus you can order those hard to find items from Wasserstrom.
More
Disposable Items
Purchase disposable items online at Wasserstrom.com. Find a variety of disposable items like lemon wraps, vacuum seal bags and popcorn bags. Browse through our collection of disposable items and find the disposable items your kitchen or bar will need.
Order Boil Bags and Cedar Wraps
Order cedar wraps and more disposable items and have your items delivered to your door within a few days. Ordering online is fast and easy, with more items shipped out in one to two business days. If you have any questions about our collection of disposable items, or would prefer to place your restaurant supplies order by phone, please contact Customer Service.
Product List
Item #: 6046412

Model #: 5000902

By: Darling Food Service

Sold As: Pack of 1000

Item #: 6065416

Model #: EC-12-1-CL

By: G.E.T. Enterprises

Sold As: Case of 12

Item #: 6106047

Model #: CUL-FB-12G-LF

By: World Centric

Sold As: Case of 1000

Item #: 6104818

Model #: TO-NT-1

By: World Centric

Sold As: Case of 450

Item #: 6104819

Model #: BO-SU-16

By: World Centric

Sold As: Case of 500

Item #: 6104820

Model #: TO-NT-8

By: World Centric

Sold As: Case of 300

Item #: 6106825

Model #: EP-SCRC32NFA

By: Eco Products

Sold As: Case

Item #: 6106827

Model #: EP-SCRC24NFA

By: Eco Products

Sold As: Case

Item #: 6106833

Model #: EP-BL46CNFA

By: Eco Products

Sold As: Case

Item #: 6103915

Model #: FC-NT-75

By: World Centric

Sold As: Case of 1000