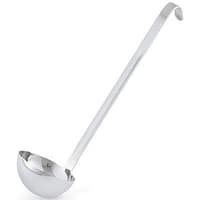 Ladles Vollrath® has the ladles you need for your salad or soup bar. Wasserstrom has a wide selection of Vollrath® salad dressing ladles and
Kool-Touch ladles
. Don't forget to check out the selection of
Vollrath® buffet supplies
and other
Vollrath® products
that are available at Wasserstrom.com.
More
Vollrath® Scoops and Ladles
Wasserstrom.com has a great selection of Vollrath® ladles and tongs. Wasserstrom also has spoodles, spoons, and scoops from Vollrath®.
Order Vollrath® Tongs and Spoons
Order your Vollrath® spoons or Vollrath® tongs from Wasserstrom.com today. Ordering online is fast and easy, with more items shipped out in one to two business days. If you have any questions about our selection of Vollrath® cookware and other Vollrath® utensils, or would prefer to place your restaurant supplies order by phone, please contact Customer Service.
Product List
Item #: 6003986

Model #: 4987520

By: Vollrath

Sold As: Each

Item #: 6002953

Model #: 4970510

By: Vollrath

Sold As: Each

Item #: 210936

Model #: 46915

By: Vollrath

Sold As: Each

Item #: 210987

Model #: 4981510

By: Vollrath

Sold As: Each

Item #: 210956

Model #: 4980120

By: Vollrath

Sold As: Each

Item #: 395133

Model #: 4970110

By: Vollrath

Sold As: Each

Item #: 259100

Model #: 46901

By: Vollrath

Sold As: Each

Item #: 251003

Model #: 46811

By: Vollrath

Sold As: Each

Item #: 395132

Model #: 4971510

By: Vollrath

Sold As: Each

Item #: 262497

Model #: 4971520

By: Vollrath

Sold As: Each

Item #: 395134

Model #: 4980010

By: Vollrath

Sold As: Each

Item #: 256400

Model #: 46900

By: Vollrath

Sold As: Each

Item #: 251002

Model #: 46810

By: Vollrath

Sold As: Each

Item #: 107826

Model #: 4980020

By: Vollrath

Sold As: Each