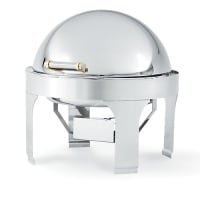 Half-Size Chafers
Serve hot food in one of the many chafers available at Wasserstrom.com. Choose from Oneida Noblesse chafers, chafers from Vollrath, chafers from Oneida, and chafers from Bon Chef.
More
Catering Half-Size Chafers
Wasserstrom.com has a great selection of chafers for your next catered event. Choose from catering full-size chafers, catering half-size chafers, chafer pans, and all the accessories for chafers at Wasserstrom.com.
Order Catering Half-Size Chafers Today
Order your half-size chafers at Wasserstrom.com and have them delivered right to your door. Ordering online at Wasserstrom.com is easy and fast, with more items shipped out in one to two business days. If you have any questions about our great selection of chafers, or would prefer to place your catering supplies order by phone, please contact the helpful representatives in Customer Service.