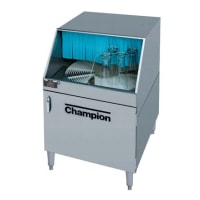 Glasswashers Get your Glasswashers at Wasserstrom.com. Find underbar glass washers from Jackson and electric in-sink glasswashers from Barmaid. These glasswashers work well with
Dish Tables
. Select the Glasswashers for your kitchen that will provide quality results. Let us help you select the glasswasher for your kitchen or business!
For additional Large Equipment information or specifications, please contact our Customer Service department at 1-877-425-8906.
More
Glasswashers
Buy glasswashers today at Wasserstrom.com. Shop for a Bar Maid glasswasher, a Jackson glasswasher, and more glasswashers today at Wasserstrom.com. Also shop here for disposers and dishwashers.
Purchase glasswashers Today
Order the glasswasher that suits the requirements of your busy kitchen today at Wasserstrom.com. Find a great selection of glasswashers including great brands like Jackson and Bar Maid. Also shop Wasserstrom.com for a great selection of dishwashers and sinks. If you have any questions about our collection of glasswashers, or would prefer to place your warewashing equipment order by phone, please contact Customer Service.