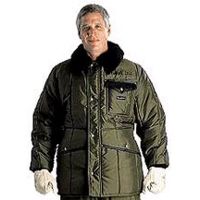 Freezer Jackets and Gloves
Shop freezer jackets at Wasserstrom. Stay protected from freezing temperatures with our collection of freezer coats. Get freezer jackets with insulated hand warmer pockets, insulated freezer jackets, hooded freezer jackets and hoodless freezer jackets. Stay warm and avoid frost bite with our collection freezer coats. Get all of the chef apparel you'll need online at Wasserstrom.com.
More
Freezer Jackets
Keep warm in the selection of freezer jackets you will find at Wasserstrom.com. Get parkas, hooded jackets, and more freezer jackets. Also shop Wasserstrom.com for chef coats, aprons, gloves and more chef apparel. If you're looking for comfortable footware, check out our Mozo shoes.
Order Freezer Jackets Today
Order your freezer jacket today, and have it delivered right to your door. Ordering online is easy and fast, with more items shipped out in one to two business days. If you have any questions about our selection of chef apparel, or would prefer to place your restaurant supplies order by phone, please contact Customer Service.