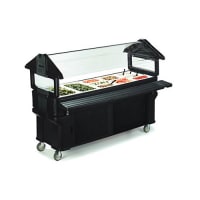 Food Bars and Sneeze Guards Every buffet and
food bar
needs
sneeze guards
, so shop with us for single and double sided sneeze guards to keep things clean and food bars for your cafeteria or restaurant.
For additional Large or Small Equipment information or specifications, please contact our Customer Service department at 1-877-425-8906.
More
Food Bars and Sneeze Guards
Purchase food bars and food bar sneeze guards today online at Wasserstrom.com. Get food bars for your soup bar and salad bars. Find innovative portable food bars, stationary food bars and tabletop food bars. Also get sneeze guards and keep germs out of your buffet.
Order Your Sneeze Guards and Food Bars
Order your single sided sneeze guards and food bars today, and have your food bars and sneeze guards arrive within a few days. Ordering online is easy and fast, with more items shipped out in one to two business days. If you have any questions about our collection of sneeze guards and food bars, or would prefer to place your restaurant supplies order by phone, please contact Customer Service.