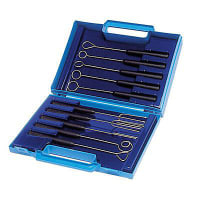 Fondue Supplies
Who doesn't like fondue? Find what you need for your favorite fondue recipe here at Wasserstrom.com. We have fondue, fondue pots, fondue forks, and fondue sets, something sure to suit your style.
More
Fondue Supplies
Shop Wasserstrom.com for a great selection of fondue supplies. Find fondue pots from Swissmar®, J.B. Prince and more fondue pots at Wasserstrom.com. Shop here also for a great selection of appetizer plates.

Order Fondue Supplies Today
Order fondue supplies today and they'll be delivered right to your door. Wasserstrom.com has many items that will ship within one to two business days. For questions about the selection of restaurant supplies at Wasserstrom.com, or information about delivery times, please call Customer Service.