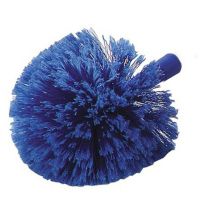 Dust Mops & Dusters
Choose from a complete selection of dust mops and handles here at wasserstrom.com. We have microfiber mops, feather dusters, and cotton dusters. We have dusters for the floor or ceiling and extendable dusters. Choose from brands like Rubbermaid®, Impact®, 3M™, and Carlisle.
More
Dust Mops
Purchase dust mops, dust mop frames and dust mop handles online today at Wasserstrom.com Get
dust mop frames
,
cotton dust mops
, microfiber dust mobs and more dust mops to choose from in a variety of sizes and colors. Also find the dust mop handles you'll need for your new dust mops and dust mop frames.
Order Your Cotton Dust Mops and Dust Mop Frames
Order your dust mop frames and cotton dust mops today, and have your dust mops arrive within a few days. Ordering online is easy and fast, with more items shipped out in one to two business days. If you have any questions about our collection of dust mops and dust mop frames, or would prefer to place your restaurant supplies order by phone, please contact Customer Service.
Product List
Item #: 109255

Model #: FGQ85200WH00

By: Newell Brands Distribution LLC

Sold As: Each

Item #: 109260

Model #: FGQ85300WH00

By: Newell Brands Distribution LLC

Sold As: Each

Item #: 661020

Model #: FGM255000000

By: Newell Brands Distribution LLC

Sold As: Each

Item #: 661018

Model #: FGM116000000

By: Newell Brands Distribution LLC

Sold As: Each

Item #: 661019

Model #: FGK15500WH00

By: Newell Brands Distribution LLC

Sold As: Each

Item #: 661027

Model #: FGK15300BL00

By: Newell Brands Distribution LLC

Sold As: Each

Item #: 107609

Model #: FGT19900WH00

By: Newell Brands Distribution LLC

Sold As: Each

Item #: 109101

Model #: FGJ15300YL00

By: Newell Brands Distribution LLC

Sold As: Each

Item #: 528201

Model #: FGQ85000BK00

By: Newell Brands Distribution LLC

Sold As: Case of 6

Item #: 553672

Model #: FGJ25500BL00

By: Newell Brands Distribution LLC

Sold As: Each

Item #: 661028

Model #: FGM253000000

By: Newell Brands Distribution LLC

Sold As: Each

Item #: 702520

Model #: FGJ35300BL00

By: Newell Brands Distribution LLC

Sold As: Case of 12