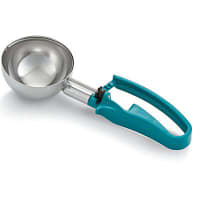 Dishers Vollrath® has the disher you need for your ice cream parlor or restaurant. Wasserstrom has a wide selection of Vollrath®
ice cream dishers
. Vollrath® has
thumb action dishers
,
squeeze dishers
,
green dishers
, and more Vollrath® dishers that are available at Wasserstrom.com.
More
Vollrath® Dishers and Scoops
Wasserstrom.com has a great selection of Vollrath® dishers and scoops. Also be sure to check out the great selection of Vollrath® spoodles and tongs.
Order Vollrath® Tongs and Spoons
Order your Vollrath® spoons or Vollrath® tongs from Wasserstrom.com today. Ordering online is fast and easy, with more items shipped out in one to two business days. If you have any questions about our selection of Vollrath® cookware and other Vollrath® dishers, or would prefer to place your restaurant supplies order by phone, please contact Customer Service.
Product List
Item #: 6059151

Model #: 47391

By: Vollrath

Sold As: Each

Item #: 290000

Model #: 47141

By: Vollrath

Sold As: Each

Item #: 293100

Model #: 47161

By: Vollrath

Sold As: Each

Item #: 290100

Model #: 47142

By: Vollrath

Sold As: Each

Item #: 290200

Model #: 47143

By: Vollrath

Sold As: Each

Item #: 290300

Model #: 47144

By: Vollrath

Sold As: Each

Item #: 290340

Model #: 47145

By: Vollrath

Sold As: Each