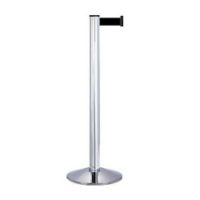 Retractable Stanchions and Crowd Control Barriers
Whether you are opening outdoor seating at your restaurant or bar or want to help facilitate a more seamless experience for your customers as they wait to enter your establishment – retractable belt barriers and stanchions are perfect to help organize line control.
Crowd control barriers are also great for creating safe paths as customers and patrons wait to check-out. Encourage safe distancing while in line and help prevent customers from forming close groups with our assortment of crowd and line control posts and belts.