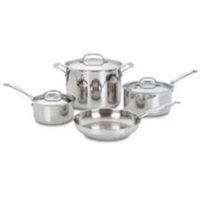 Cookware Sets Shop for cookware sets, pot and pan sets and non-stick cookware sets from quality manufacturers like Calphalon and Vollrath. Get your stainless steel sets, microwave sets and iron sets of cookware for your kitchen.
More
Cookware Sets
Shop cookware sets online today at Wasserstrom.com. Get 7 piece cookware sets, 4 piece cookware sets, stainless steel cookware sets, microwaveable cookware sets and more cookware sets. Create scrumptious meals for your dining patrons with our collection of cookware sets.
Order Microwaveable Cookware Sets and Stainless Steel Cookware Sets
Order Focus® cookware sets, Cuisinart® cookware sets, and more cookware sets today and have your items delivered to your door within a few days. Ordering online is fast and easy, with more items shipped out in one to two business days. If you have any questions about our collection of cookware sets, or would prefer to place your restaurant supplies order by phone, please contact Customer Service.