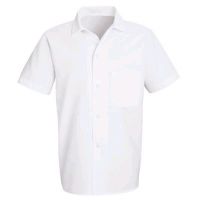 Cooks Shirts
Shop cook shirts at Wasserstrom. Keep your cooks comfortable and professional with our collection of cooks shirts. Find button-down cooks shirts and and snap-front cook shirts. Also shop here for chef coats and aprons. Get all of the chef apparel you'll need online at Wasserstrom.com.
More
Cooks Shirts
Cooks need quality, durable shirts and you will find what you're looking for at Wasserstrom.com. Get button-down shirts, tee-shirts, snap-front shirts, and more cook shirts. Also shop Wasserstrom.com for chef pants, aprons, gloves and more chef apparel. If you're looking for comfortable footware, check out our Mozo shoes.
Order Cooks Shirts Today
Order your cook shirt today, and have it delivered right to your door. Ordering online is easy and fast, with more items shipped out in one to two business days. If you have any questions about our selection of chef apparel, or would prefer to place your restaurant supplies order by phone, please contact Customer Service.
Product List
Item #: 6011353

Model #: CS006BK-M

By: John Ritzenthaler Company

Sold As: Each

Item #: 6011352

Model #: CS006BK-L

By: John Ritzenthaler Company

Sold As: Each

Item #: 6011351

Model #: CS006BK-XL

By: John Ritzenthaler Company

Sold As: Each

Item #: 6011350

Model #: CS006BK-2X

By: John Ritzenthaler Company

Sold As: Each

Item #: 6018301

Model #: CS006BK-3X

By: John Ritzenthaler Company

Sold As: Each

Item #: 6017490

Model #: CS006WH-S

By: John Ritzenthaler Company

Sold As: Each

Item #: 6017491

Model #: CS006WH-M

By: John Ritzenthaler Company

Sold As: Each

Item #: 6017492

Model #: CS006WH-L

By: John Ritzenthaler Company

Sold As: Each

Item #: 6017493

Model #: CS006WH-XL

By: John Ritzenthaler Company

Sold As: Each

Item #: 6017494

Model #: CS006WH-2X

By: John Ritzenthaler Company

Sold As: Each

Item #: 6017495

Model #: CS006WH-3X

By: John Ritzenthaler Company

Sold As: Each