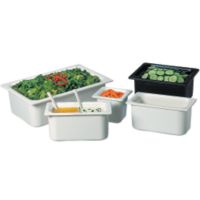 Coldmaster®, Coldfest® & Chill-It® Pans
Keep your food perfectly chilled with our selection of cold food pans, featuring Carlisle's Coldmaster line, San Jamar's Chill-It line, and Cambro's Coldfest line. Cold food pans come in a variety of shapes, sizes, and colors to meet your foodservice operation's every need.
Carlisle's Coldmaster line employs non-toxic, gel-filled walls that keeps food cold for up to 8 hours, eliminating the need for a messy ice bath. The Coldmaster line was designed with food waste reduction and sanitation in mind. The pans have smooth corners which both decreases food waste and makes it easier to clean than sharp corners.
Stock up on cold food pans that are dishwasher safe, NSF certified and ready your commercial kitchen for food preparation, transport, buffet service, salad bars, catering, storage, and more.