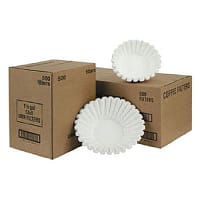 Coffee Filters Everyone needs to get coffee filters. Wasserstrom has all the coffee filters you will need. Do you need a
regular filter
, a
10 gallon filter
, a filter for a
coffee urns
or any other size filter for your home kitchen or for a restaurant? Order your coffee filter needs from Wasserstrom.com.
More
Coffee Filters
Buy coffee filters at Wasserstrom.com and brew up a fresh pot of piping hot coffee. Get urn filters in an array of sizes including 6 gallon urn filters, 10 gallon filters and more urn filters for your coffee dispensers and tea dispensers. Also find cone filters, 12 cup coffee filters and more paper coffee filters.
Order Urn Coffee Filters and 10 Gallon Coffee Filters
Order Bunn® coffee filters and 1.5 gallon urn coffee filters and have your paper coffee filters delivered to your door within a few days. Ordering online is fast and easy, with more items shipped out in one to two business days. If you have any questions about our collection of disposable coffee filters, or would prefer to place your restaurant supplies order by phone, please contact Customer Service.