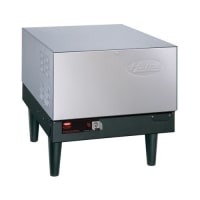 Electric Booster Heaters, Booster Gauges, and more Booster Heating Equipment!
Give your water heater a boost with industrial booster heaters and compact booster heaters. Minimize heat loss, flash dry dishes, and sanitize your tableware with Wasserstrom's Booster Heaters. Find high temp booster heaters and other commercial booster heaters from top manufacturers like Jackson. Make your dishes sparkle with extremely efficient booster heaters!
For additional Large Equipment information or specifications, please contact our Customer Service department at 1-877-425-8906.
More
Booster Heaters
Purchase Booster Heaters at Wasserstrom.com online today. Get Hatco® booster heaters, compact booster heaters and more electric booster water heaters to choose from.
Order Your Compact Booster Heaters and Electric Booster Heaters
Order your compact booster heaters or other electric booster water heaters today, and have your booster heater delivered to your door. Ordering online is easy and fast with most in-stock items shipping out in 2-3 business days. For exact shipping estimates, questions about our collection of booster heaters, or to place your restaurant supplies order by phone, please contact Customer Service.