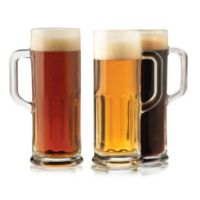 Beer Mugs & Other Glass Mugs Your favorite brew deserves a good, solid mug. Your guests will enjoy their beer ice cold, in a frosty glass beer mug. At Wasserstrom, you'll find all the best glass mugs from Libbey®, and tankards from Bon Chef and other brand name manufacturers. Whether you need your beer mugs in sizes up to an entire liter, or need them shaped like the ever-popular
boot mug
, you'll find an affordable solution that will make your guests happy, and offer a fine beverage presentation.
More
Popular Boot Mugs
Even if your restaurant doesn't have a Western theme, boot mugs are a charming way to serve your guests their favorite ale. Look for Libbey's popular selection of boot mugs, or the boot mugs made by Anchor Hocking Glass, which offer the Sure Guard™ guarantee.
Order Your Plastic Glass Mugs & Glass Mugs
Order your plastic glass mugs or boot mugs today, and they will be delivered within a few days. In fact, most items ship within one to two business days. To complement your Libbey boot mugs, browse through our selection of Libbey glass, or other drinking glasses.
Wasserstrom has been providing affordable, quality restaurant supplies, as well as outstanding customer service for more than 100 years. For questions about beer mugs or other restaurant equipment, please call Customer Service.
Product List
Item #: 400200

Model #: 5205

By: Libbey

Sold As: Case of 12

Item #: 400201

Model #: 5206

By: Libbey

Sold As: Case of 12

Item #: 402101

Model #: 5360

By: Libbey

Sold As: Case of 12

Item #: 405308

Model #: 5020

By: Libbey

Sold As: Case of 12

Item #: 444281

Model #: C1643

By: ARC Cardinal

Sold As: Case of 12