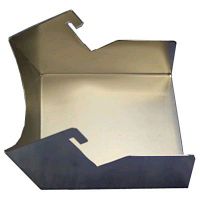 AYR King Parts AYR King repair parts and replacement parts at Wasserstrom. Shop for AYR King Breader / Blender / Sifter equipment parts and more AYR King parts. Find locking casters and caster inserts for your mobile AYR King Equipment. Get all of the original equipment manufacturer parts to put your AYR King equipment in pristine condition at a reasonable price!
For additional information and specifications about Wasserstrom's equipment parts, please contact our Customer Service department at 1-877-425-8906.
More
AYR King Equipment Parts
Buy AYR King equipment parts online at Wasserstrom.com today. Get all the parts and accessories you need for AYR King dough ball pans and AYR King lug pans.
Order Your AYR King Replacement Parts and Accessories
Order AYR King equipment parts and accessories today, and have your AYR King parts arrive within a few days. Ordering online is easy and fast, with more items shipped out in one to two business days. If you have any questions about our collection of AYR King equipment parts, or would prefer to place your restaurant supplies order by phone, please contact Customer Service.