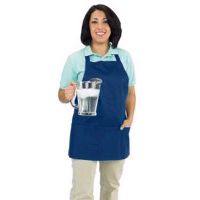 Aprons and Server Gloves
Shop Aprons at Wasserstrom and find the right apron for the job. Get waist aprons that are great for the wait staff, bib aprons that are excellent for coffee shops and grocery stores, vinyl aprons for dishwashing and cleaning purposes and more aprons. Need a one-time use apron? Try a disposable apron.Get all of the chef apparel you'll need online at Wasserstrom.com.
More
Chef Aprons
Cooks and waiters need the proper apron and you will find the right one at Wasserstrom.com. Get bib aprons, vinyl aprons, disposable aprons, and more aprons. Also shop Wasserstrom.com for cooks shirts, disposable hairnets, protective gloves and more chef apparel. If you're looking for comfortable footwear, check out our selection of Mozo shoes.
Order Kitchen Aprons
Order your chef apron today, and have them arrive right to your door. Ordering online is easy and fast, with more items shipped out in one to two business days. If you have any questions about our selection of chef apparel, or would prefer to place your restaurant supplies order by phone, please contact Customer Service.
Product List
Item #: 6049611

Model #: 411BA-WH

By: John Ritzenthaler Company

Sold As: Each

Item #: 6050039

Model #: 412BA-BK

By: John Ritzenthaler Company

Sold As: Each

Item #: 365036

Model #: 50362

By: Tucker Safety Products

Sold As: Each

Item #: 122587

Model #: 50422

By: Tucker Safety Products

Sold As: Each

Item #: 122861

Model #: 600BAW

By: John Ritzenthaler Company

Sold As: Each

Item #: 372057

Model #: 600BAW-D

By: John Ritzenthaler Company

Sold As: Each

Item #: 372021

Model #: 601BAC-BK

By: John Ritzenthaler Company

Sold As: Each

Item #: 372016

Model #: 601BAC-NV

By: John Ritzenthaler Company

Sold As: Each

Item #: 372015

Model #: 601BAC-WH

By: John Ritzenthaler Company

Sold As: Each

Item #: 372109

Model #: 602BAFH-BK

By: John Ritzenthaler Company

Sold As: Each

Item #: 372011

Model #: 605WAFH-BK

By: John Ritzenthaler Company

Sold As: Each

Item #: 524441

Model #: 607BA-BK

By: John Ritzenthaler Company

Sold As: Each

Item #: 372042

Model #: BIAWH

By: John Ritzenthaler Company

Sold As: Each

Item #: 6058632

Model #: 601MAJ-BK

By: John Ritzenthaler Company

Sold As: Each