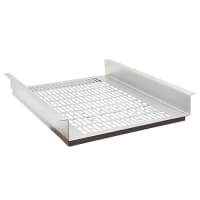 Adapter Plates and Grates
Adaptor plates are an excellent way to organize your steam table and hold insets and bain maries in prep and serving areas. Vollrath's adapter plates are reliable and durable for long lasting use in commercial foodservice operations.
They allow the use of insets without spills or escaping steam, while maintaining the polished look of high-quality stainless steel.
Our assortment of stainless-steel grates work with steam tables, inside food pans, and so much more. They are oven safe and versatile, aiding in roasting and cooling or used as a drying or display rack. Pick up some adaptor plates and grates and experience the increased convenience and cleaning efficiency these accessories have to offer your commercial kitchen.