Commercial Range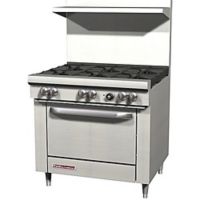 Commercial Electric Ranges, Commercial Gas Ranges, and More Commercial Ranges! Stainless steel gas ranges and electric ranges from top manufacturers like Vulcan-Hart, Wolf Range,
Garland
and Comstock-Castle. At Wasserstrom, find the latest, most innovative commercial ranges for your business or home. Browse through our collection of worktop commercial ranges to find the one that is perfect for your space!
For additional Large Equipment information or specifications, please contact our Customer Service department at 1-877-425-8906.