Cold Food Table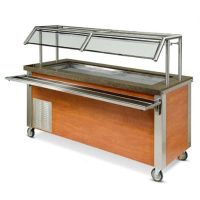 Cold Food Table Get your Cold Food Serving Tables at Wasserstrom.com. Select the serving counter that fits your business' needs. They offer a professional appearance and usually let you design the configuration you will need.
Randell® Cold Food Tables
have a great selection. Let us help you select the Cold Food Table for your kitchen or business!
For additional Large Equipment information or specifications, please contact our Customer Service department at 1-877-425-8906.