Loading...
R & B Wire 200F Large Capacity Laundry Cart

Item #: 6010514


Model #: 200F
Manufacturer: R & B Wire


| | |
| --- | --- |
| Product Name | R & B Wire 200F Large Capacity Laundry Cart |
| Product ID | 6010514 |
| Manufacturer Name | R & B Wire |
| Model Number | 200F |
| Length | 34.0 in |
| Width | 20.0 in |
| Height | 20.0 in |
| Weight | 37.0 lb |
| Hazmat | N |
| Oversize | N |
| Return To Manufacturer | Y |
| Brand Name | R & B Wire |
Page 1 of 1 - 1 -
R & B Wire 200F Large Capacity Laundry Cart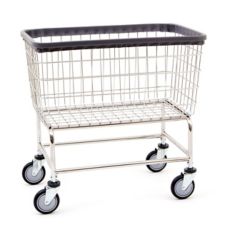 By: Lark field home care
From: Santa Rosa, CA

R & B Wire 200F Large Capacity Laundry Cart
Good looking laundry basked, well built as it appears , casters plenty large , easy assembly direction page, " although it is missing steps 4,5& 6, for a dummy like me who might not be able to think on their Owen turning over the base and secure the basket ". Great price/deal for this product. I do recommend it to small businesses and family of 4+ , specially to the ones having their washing machine in their garage or NOT immediately close to their bed and bath rooms, having to carry loads of dirty cloth & volume of linens, dropping several pieces every trip. I will update you as for functioning of this product in near future, as an inexperienced father of a large family doing what wife should do I already can see this basket makes it fun doing the laundry/returning those nicely folded cleans back to our rooms is going to be fun not just a work.

Primary Use: Healthcare
3 Questions Asked

Page 1 of 1 - 1 -
By: Sue
From: State College, PA

Nov 17, 2013

Question:
How tall is this basket when fully assembled? I'm trying to figure out if it will fit under a laundry table.
Answer:
Hello, this laundry cart has a 33" length, 20" width, 16" depth, and 32.5" height. Thank you!
By: Joy
From: Highland ,New York

May 23, 2014

Question:
Hello, I am looking for a cart that will not mark up my wood floors when I roll it. Will these wheels mark up a wooden floor. Also, is shipping free? Thank you, Joy
Answer:
Hi, the manufacturer states that they use non-marking polyurethane material on their caster which will not mark the surface. Even if you were to drag the caster across the floor, it will not mark it. Shipping charges are based on the dimension, weight and destination of the product. Adding the item to the cart and using our freight calculator will give you an estimation of the charge. Thank you.
By: Reed
From: Ny ny

Nov 3, 2014

Question:
Are there any options to buy like an attached hanger pole accessory?
Answer:
Hello, we currently do not carry any accessories for this laundry cart. Thank you!