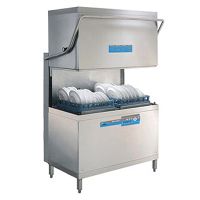 Meiko MEIKO, the world's #1 brand in flight-type conveyor warewashers, is proud to offer a full product line of commercial warewashers and systems designed specifically for the American marketplace. From undercounter models to flight-type conveyors, Meiko has a solution for your commercial warewashing needs.
For additional Large Equipment information or specifications, please contact our Customer Service department at 1-877-425-8906.
More
Meiko Equipment
Purchase Meiko equipment at Wasserstrom.com online today. Wash your dishes simply with our collection of Meiko dishwashers. Get Meiko steam heat dishwashers, Meiko dual tank dishwashers, Meiko single tank dishwashers Meiko pot & pan washersand more dishwashers from Meiko.
Order Your Meiko Conveyor Dishwashers and Meiko Undercounter Dishwashers
Order your Meiko conveyor dishwasher and Meiko undercounter dishwashers today, and have your Meiko dishwashing equipment arrive within a few days. Ordering online is easy and fast, with more items shipped out in one to two business days. If you have any questions about our collection of Meiko equipment, or would prefer to place your restaurant supplies order by phone, please contact Customer Service.