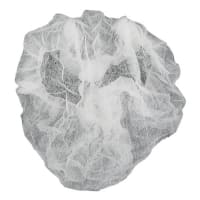 Hair Nets and Beard Covers All the kitchen workers in your restaurant will need disposable
hair nets
and beard nets. Order your supply of hair nets at Wasserstrom.com. You can select from
brown
or
black
hair nets.
More
Hairnets and Beard Covers
Shop hairnets and beard covers online at Wasserstrom. Get lightweight hairnets in an assortment of colors, bouffant caps and beard covers. Keep hair from falling into your food with our collection of disposable hairnets and beard covers.
Order Nylon Hairnets and Disposable Beard Covers
Order hairnets and have your items delivered to your door within a few days. Ordering online is fast and easy, with more items shipped out in one to two business days. If you have any questions about our collection of disposable beard covers and hairnets, or would prefer to place your restaurant supplies order by phone, please contact Customer Service.