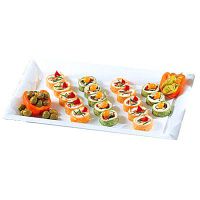 Bon Chef Food Pans Stainless steel food pans from Bon Chef, at Wasserstrom. Find a vast array of round, square and rectangular food pans. Decorative food pans, plain food pans, long food pans, small food pans, any size
food pans
. Find the perfect Bon Chef food pan for your holding needs.
More
Bon Chef Food Pans
Shop for Bon Chef food pans online at Wasserstrom. Get Bon Chef food pans including stainless steel food pans, Laurel food pans, pewter food pans and more Bon Chef food pans. Use these food pans during food prep or on your buffet line.
Order Bon Chef Food Pans Today
Order Bon Chef food pans and Rubbermaid food pans today and have your food pans delivered right to your door. Ordering online is fast and easy, with more items shipped out in one to two business days. If you have any questions about our collection of Bon Chef food pans, or would prefer to place your restaurant supplies order by phone, please contact Customer Service.