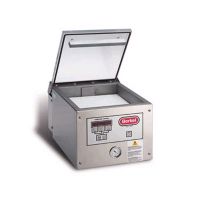 Berkel Vacuum Packaging Machine
Get your Berkel Vacuum Packaging Machines at Wasserstrom.com. The Berkel company has made quality products for over 100 years. The Vacuum Packaging Machines are simple to operate and maintain. Select the Berkel Vacuum Packaging Machine for your kitchen for to provide quality results. Let us help you select the vacuum packaging system for your kitchen or business!
For additional Large Equipment information or specifications, please contact our Customer Service department at 1-877-425-8906.