Loading...
Zwilling J.A. Henckels 31070-163 Four Star 6" Utility Knife

Item #: 219814


Model #: 31070-163
Manufacturer: Zwilling J.A. Henckels


Strength meets comforts in the JA Henckels Four Star Line of cutlery. This 6" utility knife features stainless steel blades concocted of a special recipe then ice hardened for increased strength. Sharpened to a precise angle, the four star knives perform like the quality cutlery they are and are easily refreshed and sharpened. These SIGMAFORGE® blades are forged of a single piece of steel for balance and strength. The smooth bolster provides a comfortable grip that places your hand into the position that provides the most control. This utility knife is perfect for cutting tomatoes, onions, lettuce, and even bread. It is a must have in any kitchen or restaurant.
Standard Features:
Blade Dimension: 6"
Ideal for Cutting Tomatoes, Onions, Lettuce, and Even Bread
SIGMAFORGE® One Piece Construction
Laser Controlled Edge - is Sharper and Stay Sharper Longer has a More Consistent Blade Angle
Friodur® Ice Hardened - Maximum No Stain Properties and More Blade Strength
Super Bolster - Provides Weight, Insures Safety and Adds Balance
Full Horizontal Tang Without Rivets Design
High Carbon, No Stain Steel, No Rusting
Polypropylene Handles - Comfortable Molded Handle, Hygienic, Food Safe
Dishwasher Safe - But Not Recommended By Zwilling J.A. Henckels
Full Warranty: J.A Henckels Stands Behind All Its Knives
Model #: 31070-163

| | |
| --- | --- |
| Product Name | Zwilling J.A. Henckels 31070-163 Four Star 6" Utility Knife |
| Product ID | 219814 |
| Manufacturer Name | Zwilling J.A. Henckels |
| Model Number | 31070-163 |
| Length | 11.5 in |
| Width | 1.125 in |
| Height | 0.75 in |
| Weight | 0.24 lb |
| UPC | 035886079567 |
| Cross Reference ID | 219814, 645-31070163, 31070-163 |
| Hazmat | N |
| Oversize | N |
| Return To Manufacturer | Y |
| Brand Name | Four Star |
| Material | Stainless Steel |
| Mfg Part # | 31070-163 |
| Assembly Required | N |
| Warranty Details | Limited lifetime manufacturer's warranty |
Page 1 of 1 - 1 -
Zwilling J.A. Henckels 31070-163 Four Star 6" Utility Knife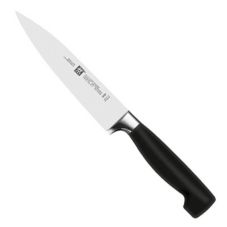 By: Gary
From: Tacoma, Wa

Zwilling J.A. Henckels 31070-163 Four Star 6" Utility Knife
This knife was a replacement for the same make/model after a family member misused the original knife and damaged it beyond repair. The original knife performed great for 15 years. The replacement knife I have had for 3 weeks when I noticed a crack forming near the handle perpendicular to the cutting edge. Talked to a housewares person at Macy's and they said they occasionally get them back for cracking and that this crack is always in the same place. I'll ask Henckles for exchange but am concened that thier quality may have gone down over the years. Not sure at this point if I would recommend this product to a friend without a caution. I'm say "Yes" in recommending to a friend because there is no "Maybe" choice.

There are no questions at this time. Be the first to ask a question about this product!