Loading...
Jaccard® Plastic Meat Tenderizer
Great to use for meat, poultry, fish and game. Using this tenderizer will create thin heating channels to allow the meat to absorb marinades and rubs and minimizes cooking times.
Model #: 200348
Material: Plastic
Color: White
Stainless steel blades
48 blades
Dishwasher safe
Lifetime warranty
Height: 1-1/2"
Width: 5-3/4"
Depth: 4"
Shipping weight: 1.015 lb
Made in China

| | |
| --- | --- |
| Product Name | Jaccard® Plastic Meat Tenderizer |
| Short Product Description | TENDERIZER,MEAT,WHITE PLASTIC WITH S/S BLADES,3 ROWS OLD MDL# SUPER3/10048 |
| Product ID | 136390 |
| Manufacturer Name | Jaccard Corporation Of Buffalo |
| Model Number | 200348 |
| Length | 7.15 in |
| Width | 8.1 in |
| Height | 3.25 in |
| Weight | 1.015 lb |
| Hazmat | N |
| Oversize | N |
| Return To Manufacturer | Y |
| Country Of Origin | China |
| Mfg Part # | 200348 |
| Material | Plastic |
| Color | White |
| Warranty | Lifetime |
Page 1 of 1 - 1 -
Jaccard® Plastic Meat Tenderizer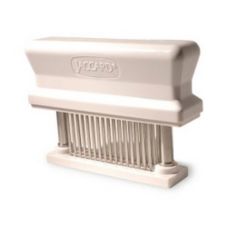 By: erbl1
From: Grand Rapids Michigan

Jaccard® Plastic Meat Tenderizer
I like that the little blades actually cut the meat as aposed to punching little holes in it. The end result is that strands of sinue and fat are cut allowing the marinade to easily penitrate. We line up the meat on a large platter or cutting board and do all of it at the same time. You can do one at a time but when you have many peices, it is so easy. We have had tender meat for a year and just toss it in the dishwasher. So easy and we find this product irreplacable after using it for a year. We intend to give this tendorizer as gifts this year.

6 Questions Asked

Page 1 of 1 - 1 -
By:
From:

Dec 15, 2009

Question:
How many blades does this unit have?
Answer:
This tenderizer contains 48 stainless steel blades.
By:
From:

Apr 7, 2010

Question:
Does this unit come in black? I've found that white plastic often discolors with use. Thank you.
Answer:
This particular model does not come in black, but Jaccard does have another meat tenderizer that is black (Jaccard model# 200345NS). You can call our customer service and we can special order this item, since it is not in our catalog yet. Customer service: 1-866-634-8927
By:
From:

Aug 27, 2010

Question:
Is this model with stainless steel columns or ABS columns?
Answer:
This meat tenderizer has stainless steel columns.
By:
From:

Apr 20, 2012

Question:
does this have 2 rows of teeth
Answer:
Hi. This has 3 rows. Thanks!
By:
From:

Sep 10, 2012

Question:
we've enjoyed this product but i can't find a good way to clean the inner set of blades and the outer blades facing in. there are 3 large set screws but i'm unsure if removing them will allow the blades to be removed easily for cleaning and thought it would be better to ask first. thanks
Answer:
This meat tenderizer is capable of being used in the dishwasher. This way there is no disassembling going on.
By:
From:

May 14, 2013

Question:
The screws fell out of mine. Can I order the new screws?
Answer:
Hello, we currently do not carry replacement screws for this product. For more information on where to find replacement screws, the Jaccard manufacturer can be reached at 716-825-3814. Thank you!