Loading...
Wisco Industries 412-5-NCT Deluxe Pizza Oven

Item #: 888177


Model #: 412-5-NCT
Manufacturer: Wisco Industries


This model's design has proven itself in over 20 years of service in thousands of demanding commercial food service environments. The 412-5NCT provides reliable service and dependable performance pizza after pizza. Sheathed heating elements above and below, virtually eliminating the possibility of wire breakage. Ideal for thin-crust pizzas.
Preset 450° F Thermostat
Removable clean out tray
Height: 7-3/4"
Depth: 15"
Width: 18"
Compartment Width: 13"
Compartment Depth: 13"
Compartment Height: 3"
NSF and UL Approved
120 Volts, 1450 Watts, 12.1 amps
| | |
| --- | --- |
| Product Name | Wisco Industries 412-5-NCT Deluxe Pizza Oven |
| Product ID | 888177 |
| Manufacturer Name | Wisco Industries |
| Model Number | 412-5-NCT |
| Length | 20.9 in |
| Width | 18.6 in |
| Height | 9.1 in |
| Weight | 19.18 lb |
| UPC | 748037041251 |
| Cross Reference ID | 824904125 |
| Hazmat | N |
| Oversize | N |
| Return To Manufacturer | Y |
| Mfg Part # | 412-5-NCT |
| Volts | 120 |
| Each Height | 7.75 |
| Each Width | 18 |
| Each Depth | 15 |
| Brand Name | Wisco Industries |
Page 1 of 1 - 1 -
Wisco Industries 412-5-NCT Deluxe Pizza Oven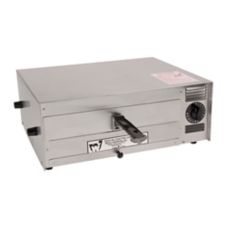 By: Pizza man
From: middletown, ohio

Wisco Industries 412-5-NCT Deluxe Pizza Oven
My kids bought this oven for me several years ago and since then I have cooked hundreds of pizza's in it.Cooking top and bottom at the same time makes a $3.00 frozen pizza taste three times better than a conventional oven. It's very easy to clean and fast. From freezer to ready to eat about 14 minutes. No warm-up necessary. The best. If you belong to the VFW or American Legion or DAV and if they have pizzas for sale, it was probably cooked in this oven.

By: Biz
From: Milwaukee, WI

Wisco Industries 412-5-NCT Deluxe Pizza Oven
Our company has one at our office and let me just say that five days a week for the past 3 years straight this gift from God operates for approx. 35-45 mins straight daily. The food it produces is just unreal. I'm not only talking about frozen pizzas here; fries, tater tots, sandwiches, nachos, hot dogs, brats, toast, anything you can think of, has been cooked in this oven and the thing just keeps trucking along. It amazes me how durable it is. I highly, highly, highly recomend this to anyone, and yes it is expensive but there is no other substitue. You could practically throw away your conventional oven for this thing. Amazing machine.

By: Lorna
From: Rockford, IL

Wisco Industries 412-5-NCT Deluxe Pizza Oven
We are very happy with our pizza oven that we purchased just a few weeks ago. It lives up to its promises. We are currently enjoying frozen pizzas and snacks in a way that we couldn't with a conventional or microwave oven. You do need to rotate a pizza half-way through the bake time as the back of the oven is hotter.

Primary Use: Personal/Home
7 Questions Asked

Page 1 of 1 - 1 -
By: JOHN
From: INDIANAPOLIS, IN

Jan 4, 2010

Question:
WHAT SIZE IS THE BIGGEST PIZZA YOU CAN PUT IN THIS OVEN?
By: Laura
From: Stanhope, NJ

Feb 26, 2010

Question:
I need an oven that will reheat already made up mini pizzas and also hot pretzels. Will this unit do both of these? Thank you, Laura
Answer:
Yes, this shoudl work for you
By:
From:

Oct 12, 2010

Question:
Is an oven this size used only for cooking premade pizzas or can they be used to make pizzas from scratch too?
Answer:
This oven has a comparment size of 13" x 13" x 3". Any pizza, either premade or from scratch, will work in this oven. Thank you.
By: Mom
From: Fl and Maine

Sep 6, 2011

Question:
I am staying at my sons for a month and want to know if I can do frozen fries in this oven. It makes great pizza and wouldn't heat the house so much as then oven does. Thanks for the info looking forward to the answer.
Answer:
As long as the frozen fries don't have to be heated higher then 450 degrees F. Then I don't see why you can't use this oven for the fries.
By: cookie
From: shickley, ne

Feb 1, 2012

Question:
I need a new handle as it broke last night. Model no. 412-5NCT Serial no. 30315 Respond with an email for payment information. Thanks
Answer:
Sorry, we currently do not carry the replacement handle for this pizza oven.
By: Mickey
From: Williamsport, PA

Mar 4, 2013

Question:
I am interested in the 412 model and am somewhat confused about the 3 NCT, 5 NCT, 8 NCT designation. I have used a 412 model (no additional designation)manufactured in March 2006 and am very pleased with it's performance. Can you offer any input? Thank you in advance, Mickey
Answer:
The manufacturer just changed their model numbers. The difference between the 3 and 5 is the wattage and amps.
By: Rodney
From: Bishkek, kyrgyzstan

Jan 5, 2014

Question:
Do you ship overseas? Is this oven available in 220 volt 50 hz power ?
Answer:
Hello, we are able to ship overseas. For assistance with ordering, our customer service department can be reached at 1-866-634-8927. Thank you!