Loading...
Bodum® 1928-16US4 Chambord 32 Oz French Coffee Maker Press

Item #: 580760


Model #: 1928-16US4
Manufacturer: Bodum USA


This coffee press has become one of the most popular coffee makers in the world because of it's pure and simple taste. The glass and stainless steel materials are completely taste free so nothing comes between your ground coffee beans.
Model #: 1928-16US/6
Material: Stainless Steel and Glass
Capacity: 32 Ounces
Height: 6.4"
Length: 10.1"
Width: 4.85"
Weight: 1.68 lb

| | |
| --- | --- |
| Product Name | Bodum® 1928-16US4 Chambord 32 Oz French Coffee Maker Press |
| Product ID | 580760 |
| Manufacturer Name | Bodum USA |
| Model Number | 1928-16US4 |
| Length | 9.8 in |
| Width | 4.5 in |
| Height | 6.2 in |
| Weight | 1.6 lb |
| UPC | 699965195359 |
| Hazmat | N |
| Oversize | N |
| Return To Manufacturer | Y |
| Mfg Part # | 1928-16U/6 |
| U/M Carried At | EA |
| Volume Capacity | 32 oz |
Page 1 of 1 - 1 -
Bodum® 1928-16US4 Chambord 32 Oz French Coffee Maker Press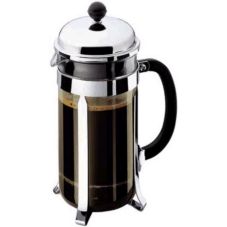 By: dt the sailor
From: Prescott, Arizona

Bodum® 1928-16US4 Chambord 32 Oz French Coffee Maker Press
The glass carafe seems like it would be easy to break so I worry a little about that. This type of coffee maker is new to me and I am very pleased with the output. I am sure I will enjoy it for a long time.

By: State of Bean
From: Belpre, Ohio

Bodum® 1928-16US4 Chambord 32 Oz French Coffee Maker Press
I use this product every morning when I get up, and every evening when I get home from work. If you want coffee at it's best, go for the Chambord french press by Bodum. You can take the boldest/darkest coffee and not have the bitter after taste that most drip makers would have. Your coffe won't be burned as do most perc's. Coffee made from the Bodum Chambord french press, will give you a pure, great tasting coffee. I prefer a mild roast due to the higher caffiene content, but all coffees work well with this product--as long as you have a course grind. I recommend home grinding... The construction of this press is solid, and is easy to clean. Pretty much all glass will break, so the con is, don't throw it across the room. Otherwise it will hold up to pretty much anything. Happy Coffee drinking!

7 Questions Asked

Page 1 of 1 - 1 -
By: Alex the coffee nut
From: good ole PA

Sep 1, 2009

Question:
does this coffee press have a screen filter near the opening of the container so that if any grounds that weren't captured by the first filter get through, then they are captured by the secondary filter?
Answer:
No, this only has one filter, but why let that stop you from having good coffee. Any french press you use for coffee is going to leave minimal sediment in the bottom of your coffee cup. Use the press as directed and you will be happy with the results.
By:
From:

Dec 14, 2009

Question:
Does this French press have the stainless steel filter, like the old ones?
Answer:
This does come with a stainless steel filter.
By: bodum seeker
From:

Sep 30, 2010

Question:
does this french press have measurements for how much coffee to add for so many cups on the outside metal? I had a Bodum that did and I can't seem to find another that has it.
Answer:
The owners manual can be found under the literature tab. This will provide you with the information you need. Thank you
By:
From: centennial CO 80112

Mar 13, 2011

Question:
what is the shipping cost?
Answer:
Shipping costs for orders from Wasserstrom.com depend upon the method and option you choose. Please note that the shipping rates for many items we sell are weight-based. The weight of any such item can be found on its detail page. Further information can be found under the Terms and Conditions. Thank you.
By:
From: Savannah, Texas

Jul 4, 2011

Question:
My mother purchased a coffee press from a estate sale and unfurnately it did not come with instructions. We would like to use it but do not know how. Do you know where I can get a copy of instructions for this product?
Answer:
The manual is located under the Literature tab of this product. Thank you.
By: Barbara the Designer
From: Illinois

Oct 10, 2013

Question:
I have a 4 cup Bodum French Coffee Press and love it. However I want an 8 cup press also. I think this 8 cup would fill the bill. Please tell me from start to finish the instructions for use. Thanks, Barbara
Answer:
Scroll down the website page for this item and click on the blue Literature tab. There you will find a copy of the instruction manual, just click again on the word Manual. Thanks.
By: Alf
From: Fresh Meadows NY

Jan 17, 2015

Question:
Do you sell the glass for the Model 1928 Chambord French Coffee Maker?
Answer:
Hello, yes, we do have the replacement glass - it is item 6015298. For assistance with ordering, our customer service department can be reached at 1-866-634-8927. Thank you!