Loading...
Norpro 1473 Three Minute Wood Egg Timer

Item #: 370590


Model #: 1473
Manufacturer: Norpro


Due to a Warehouse Move, This Product May Take an Additional 5 - 7 Days to Ship
| | |
| --- | --- |
| Product Name | Norpro 1473 Three Minute Wood Egg Timer |
| Product ID | 370590 |
| Manufacturer Name | Norpro |
| Model Number | 1473 |
| Length | 5.05 in |
| Width | 1.8 in |
| Height | 1.55 in |
| Weight | 0.08 lb |
| UPC | 028901014735 |
| Hazmat | N |
| Oversize | N |
| Return To Manufacturer | Y |
| Country Of Origin | Taiwan |
| Color | Brown |
| Material | Wood |
| Brand Name | Norpro |
Page 1 of 1 - 1 -
Norpro 1473 Three Minute Wood Egg Timer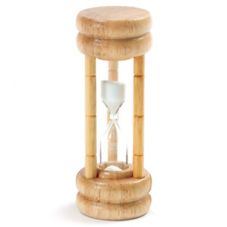 By: KmanKitchen
From: NYC

Norpro 1473 Three Minute Wood Egg Timer
Doesn't run a full 3 minutes. - Timed it twice, runs out in 2: 40 and 2:45. I'd pay a few more $ for a different one made in U.S.A.

Primary Use: Personal/Home
By: Rob
From: Orange County, CA

Norpro 1473 Three Minute Wood Egg Timer
I bought 10 of the timers to use for a game. 7 of them were quite close to 3 minutes, 2 were pretty short, and 1 was rather long. This was not a problem for what I needed and was consistent with what I found when I bought a dozen pack of plastic tipped timers from a teacher supply store. They look good and added great atmosphere to the game I was using them for. They were an excellent value for the very low price and were shipped quickly so I had them in plenty of time when I needed them. If you need one that is pretty accurate to 3 minutes, I'd say buy 2 - you'll get the pair for only barely more than you'd pay for a single unit at other places I found.

Primary Use: Personal/Home
By: Divaanne
From: Whitehouse Station, NJ

Norpro 1473 Three Minute Wood Egg Timer
I ordered this product to use in an art project. Not only was it reasonable priced, but they arrived as expected - in great condition. They will be perfect for my project and it was also helpful they arrived shortly after placing my order.

Primary Use: Personal/Home
3 Questions Asked

Page 1 of 1 - 1 -
By: Edward
From: Carlsbad, CA

Oct 12, 2012

Question:
I need 60 of these. asap 1. Is there a quantity price? 2. How soon can they ship 3. are they in individual boxes (I'm giving them as as specialty items to businesses)
Answer:
Hi. At the moment we have about 72 units. There is no minumum number to order, so you can order however many you would like. They are in stock and ship out of our warehouse in 2-3 business days. They are not packaged in individual boxes, but are wrapped in plastic. Thanks!
By: Tracey
From: New Albany, OH

Dec 21, 2012

Question:
Before driving across town to your store, I would like to know if this item is stocked in the store. If so, then is it currently "in stock"? If not available in-store, then I will order online. Thank you!
Answer:
Hi. I only see this being stocked in our warehouse at the moment. We have a few different stores in Columbus, so please see the link below for contact information for the stores you are interested in going to. Thanks! http://www.wasserstrom.com/restaurant-supplies-equipment/MapsDirectionsView
By: Bob
From: Pgh, PA

Sep 13, 2013

Question:
Can this product be engraved with my name & phone #
Answer:
Hello, according to the Norpro manufacturer it is possible they can do custom engraving, but only for very large bulk orders. For smaller quantities, they would recommend that you visit a local engraving store. To reach the manufacturer, their number is (425)-263-1000. Thank you!