Loading...
Carlisle 4037800 Sparta Meteor 9-3/4" Brush with Boar Bristles

Item #: 123481


Model #: 4037800
Manufacturer: Carlisle


Carlisle Sparta® Meteor® Pastry / Basting Brush w/ Boar's Hair Bristles, 2"
This 2" boar's hair Meteor® pastry and basting brush has a "Molded into the Handle" hook that hangs onto the lip of crocks and containers to prevent bristle burn, melt, or distortion do to high heat and the boar's hair construction allows for delicate usage.
Bristle Trim: 1-7/8"
One piece handle
Made in USA
Length: 9-3/4"
Width: 2"
Material: Boar's hair

| | |
| --- | --- |
| Product Name | Carlisle 4037800 Sparta Meteor 9-3/4" Brush with Boar Bristles |
| Short Product Description | BRUSH,PASTRY,2",BOAR,W/HOOK |
| Product ID | 123481 |
| Manufacturer Name | Carlisle |
| Model Number | 4037800 |
| Length | 10.75 in |
| Width | 2.1 in |
| Height | 1.2 in |
| Weight | 0.163 lb |
| Cross Reference ID | 4037800, 380803, 27140378, 40378-00 |
| Hazmat | N |
| Oversize | N |
| Return To Manufacturer | Y |
| Country Of Origin | United States |
| Mfg Part # | 4037800 |
| Brand Name | Sparta® |
| Material | Boars Hair |
| Case UPC | 85404912487 |
Page 1 of 1 - 1 -
Carlisle 4037800 Sparta Meteor 9-3/4" Brush with Boar Bristles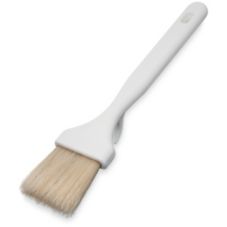 By: RedRocks
From: Southeast Utah

Carlisle 4037800 Sparta Meteor 9-3/4" Brush with Boar Bristles
My wife bought this same brush at a home kitchen party several years ago. I use it primarily for applying a final glaze of B-B-Q sauce while finishing ribs, chicken, or whatever I happen to be grilling & saucing at the time. I wanted to get a spare to put in my camping box, but had a heckuva time finding the exact brush. I looked at a couple of other brushes, but it seemed the bristles were not attached well & could fall out easily. Not so with this brush. I bought a couple of extras for gifts. The recipients loved the brush/sauce gifts they received!

4 Questions Asked

Page 1 of 1 - 1 -
By: Pat
From: Maryland

Oct 26, 2011

Question:
I'm trying to order one of these but when I try to update the cart one more is added to my order which now shows that I want 14?? How can I get back to the original order form and order just one??
Answer:
I would just remove all the items from the cart and just re-enter your order.
By: Kalli
From: Mason City, IA

Jun 6, 2013

Question:
This is for my church bake sale. How many can you purchase. I don't need a dz.
Answer:
Hello. These brushes are sold by the each, you can enter how many you want when ordering. Hope this helps.
By: Ed
From: Avoca Pa

Aug 19, 2013

Question:
How do you clean it when the bristles all get stuck together ? I really love this brush but my cousin used it in oil and forgot to clean it for 2 months. Thank you EJD
Answer:
Hello, according to the manufacturer washing the brush in warm water with a household detergent should help the brush, though it is possible it will not be fixed completely due to the length of time the oil was left on the brush. Thank you!
By:
From:

Nov 22, 2013

Question:
Is this item NSF approved?
Answer:
Hi, this item is not NSF approved. Thank you.