Loading...
Convenience is only one of the great points of this Bissell Sturdy Sweep™ Sweeper. You have no cord or dust pans to deal with. The twin dirt pans are easy to empty and the 5 brush system allows you to pick up crumbs, lint and dirt while going forward or backwards.
Model: 2402
Color: Blue
Durable Steel Construction
Edge Cleaning
Picks Up on Forward and Return Motion: 5-Brush System
Picks Up Lint, Crumbs and Dirt
No Cord to Plug In or Dust Pan to Deal With
Handle Lies Flat for Cleaning Under Furniture
Easy to Empty Twin Dirt Pans
Soft Bumper
Dimensions (L x W x H): 10-1/2 x 9-1/2 x 43-1/4 inches

| | |
| --- | --- |
| Product Name | Bissell® 2402 Sturdy Sweep™ Non-Electric Sweeper |
| Product ID | 110002 |
| Manufacturer Name | Bissell BigGreen Commercial |
| Model Number | 2402 |
| Length | 11.4 in |
| Width | 10.6 in |
| Height | 3.0 in |
| Weight | 3.2 lb |
| Hazmat | N |
| Oversize | N |
| Return To Manufacturer | Y |
| Country Of Origin | United States |
| Brand Name | Bissell BigGreen Commercial |
Page 1 of 1 - 1 -
Bissell® 2402 Sturdy Sweep™ Non-Electric Sweeper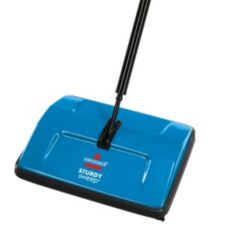 By: DragonflyMom
From: SC

Bissell® 2402 Sturdy Sweep™ Non-Electric Sweeper
I use this between vacuuming, it's easier than a broom and dustpan. Quiet, too. My only complaint is that the handle keeps coming apart.

By: Trudy the seamstress
From: Prospect, KY

Bissell® 2402 Sturdy Sweep™ Non-Electric Sweeper
This item comes in handy, but sometimes it doesn't pick up all the lint, crumbs and so forth on the carpet.

Primary Use: Personal/Home
6 Questions Asked

Page 1 of 1 - 1 -
By: Curious
From:

Nov 24, 2011

Question:
Is this product good on tile & laminate floors?
Answer:
Hi. This works best on carpets, but is adjustable for all types of flooring. It can work on tile/laminate floors, but won't do as good of a job of picking up small debris (like hair) than it would on carpet.
By:
From:

Sep 16, 2012

Question:
where can i buy it?
Answer:
Hi. We sell this sweeper online and have them in stock. Thanks!
By: Rick
From: Wiconsin

Mar 25, 2014

Question:
Hi Will one of your models pick up dog hair from carpets. Thanking you in advance Rick
Answer:
Hello, this sweeper can be used on carpet, rugs, and hard floors. It is able to pick up debris and lint, and will collect dog hair depending on how imbedded it is. This sweeper is made for "in-between cleanings", so it will not remove dog hair as well as a traditional vacuum, but will help spruce up the area. Thank you!
By: Herb
From: FairLawn, N.J.

Sep 13, 2014

Question:
Does it have i1 or 2 brush rollers ? What are the sweeper dimensions >
Answer:
The Bissell Sturdy Sweep has 4 small brushes placed on the corners of its foot, in addition to its main floor brush. The base measures about 10-1/2 inches x 11-1/2 inches and it is 43 inches tall.
By: rose
From: Quincy, il

Jan 17, 2015

Question:
How much is shipping
Answer:
Hello, shipping can be determined in one of two ways. The item can be added to your cart and you can enter in your personal information, and a shipping total will be given before you confirm purchase. Or, you can contact our customer service department directly at 1-866-634-8927 for assistance with ordering and shipping. Thank you!
By:
From: United States

Jun 3, 2015

Question:
where can i find the sweeper that had 3 roller brushes?
Answer:
Hi, was there a specific sweeper brand you had in mind that has 3 roller brushes? This model sweeper (model 2402) has a 5 brush system. If you are looking for a Bissell sweeper with 3 roller brushes, you may want to contact Bissell directly to see if they have the exact sweeper you are looking for. Bissell can be reached at 1-800-237-7691 or a message can be sent through their website at www.bissell.com. Thank you.